This travel app helps you hook up with fellow travelers — but not in the way you'd expect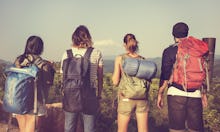 One of the best ways to experience a foreign destination is meeting locals who can show you what it's like to live there and finding other travelers to go exploring with.
In the pre-smartphone years, you had to rely on spontaneity and the kindness of strangers. You would meet fellow wanders at hostels and venture out to find locals who might help you explore, as long as you were willing to talk to strangers.
"When we travel, we necessarily step outside our comfort zone," said avid traveler Jason Rogers, 25, in an interview. "Keeping an open mind and an open, curious heart is the key to meeting new people, enjoying new experiences, and is the difference between truly traveling and simply visiting." 
Smart travel
Staying in a hostel is a good alternative to spending a lot on a fancy hotel and an easy way to meet other people. Hostels are designed for solo travelers and often have communal eating and living spaces where people can mingle.
While many 20-somethings still rely on hostels to meet other people, technology is changing the way we travel, and apps designed specifically for travelers are becoming popular. Similar to a dating app in many ways, these apps aim to make it easier to meet others with common interests while you travel.
MeetnGreetMe will help you find a local concierge wherever you are traveling. Party With a Local will help you have a fun night out in a new place if that's what you're looking for. Bonappetour connects travelers with locals who will cook and serve local fare in their own homes.
Find a friend
Jetzy, a new app that aims to connect travelers and locals around the world, models it's interface off Tinder. But instead of just looking for someone based on photos or personality traits, the app connects users based on their travel interests, whether that's clubbing, hiking, or exploring historical sites. By swiping to sort through people, users look for those who have travel interests similar to their own.
"We liked how people could meet on dating apps like Tinder and Happn, and we thought there might be a gap out there among travelers," Jetzy co-founder and chief travel officer Ty Sawyer said in an interview. "We wanted to connect travelers and people who have a passion for travel through technology."
If you're not exactly brave enough to walk up to a stranger in a bar, but you would like a local to help you find a good place to eat in your first night in a new city, Jetzy can help you do that. The app is for those who "want to meet new people, whether they are long-term travelers or whether they are local people," Sawyer said. You may be just looking for a group of people to get coffee with while you're exploring a new place or taking a break from sightseeing. The app, said Sawyer, provides that "instant gratification connection."
A different perspective
Finding locals to explore with is critical to many travelers, because locals can often help expose what it's really like to live in the place you are visiting. They help you see a different side of a place from the standard tourist version. 
"I enjoy meeting both locals and other travelers," Rogers said. "Locals are wonderful because they can show you sides of their home that you may never even have known to wish to see. Other travelers are fascinating, too, because even though they grew up in a different culture, something in their soul wished to travel and see the same things you did. That's really inspiring, and makes me hopeful for the world."
The old-fashioned way — hostel, train companion or just random encounter — is still a good way to get out of your comfort zone and experience a new place. But as technology continues to change the way we interact with the world, apps like these are helping travelers connect with those around them in new ways.
"It's the same as a youth hostel in your pocket," Sawyer said. "You can make these connections in a way that you're familiar with. The people you meet when you travel, that's what enhances the experience the most."