The 'Ellen' show tweeted a photo of DeGeneres riding Usain Bolt's back like an animal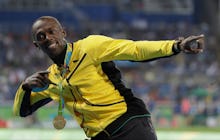 After Usain Bolt's gold medal win in the 100-meter race at the Rio Olympics Sunday, the world continued to be in awe of his speed (and coolness under pressure).
Ellen DeGeneres (or perhaps a social media producer) was equally impressed by Bolt's almost superhuman speed and decided it was a good idea to tweet this from the Ellen DeGeneres Show's Twitter account: 
In the edited photo, DeGeneres is riding piggyback on Bolt, using him for transport. Considering America's history of slavery, where black women and men were listed and sold to labor much like horses and mules, this tweet didn't go over well with many.
The Ellen Show account followed up the tweet with a video of Bolt's visit to the show last season.
The show's tasteless tweet is just another example of the American media's consistent tendency to trivialize, overshadow, or altogether forget the achievements of black Olympic athletes.
U.S. Olympic gold medalist Gabby Douglas has had to constantly face criticism for her hair. Now Bolt's record-shattering accomplishments are being reduced to stereotypical punchlines.
Tuesday, DeGeneres addressed the controversy:
As of this writing, the tweet is still live on the Ellen Show Twitter page. 
August 16, 2016 12:09 p.m.: This story has been updated.