Justin Bieber Deactivated His Instagram and Beliebers Are Devastated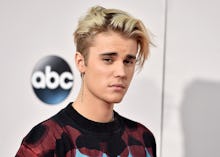 Is it too late now to say sorry? Maybe. Justin Bieber's legion of devotees are beside themselves after the pop star followed through on threats to deactivate his Instagram account.
Bieber first threatened to shut down his account after fans made rude comments about photos he posted of 17-year-old Sofia Richie, the model he may or may not be currently dating, according to CNN.  
"I'm gonna make my Instagram private if you guys don't stop the hate," Belieber reportedly wrote in a caption under a photo of him and Richie. "This is getting out of hand, if you guys are really fans you wouldn't be so mean to people that I like."
Now, try to go to Bieber's Instagram page, and you'll find this instead:
There's even more to the gripping tale. The account deletion comes amid drama between Bieber and his ex-girlfriend, Selena Gomez. Gomez reportedly told Bieber that if he couldn't handle the unfriendly comments about Richie, he shouldn't be posting photos of her.
"If you can't handle the hate then stop posting pictures of your girlfriend lol — it should be special between you two only," Gomez wrote on Instagram, according to CNN. 
"Don't be mad at your fans," she continued. "They love you."
In the battlefield of the Instagram comments section, Bieber fired back, writing: "It's funny to see people that used me for attention and still try to point the finger this way. Sad. All love."
Now, Bieber's critics are cheering his Instagram deactivation. On Tuesday morning, the hashtag #JustinDeactivatedParty was trending on Twitter with 239,000 tweets.
Not everyone is so happy. Some loyal Beliebers are devastated to see their idol gone from Instagram. You'll find them tweeting the hashtag #WeLoveYouJustin.
Are you team Justin? Team Selena? I know whose side I'm on: OG Mally, the beloved capuchin monkey Bieber abandoned in Germany, who's now apparently living at the Serengeti Park in Hodenhagen.