Larry Wilmore Reacts to 'Nightly Show' Cancellation: "Racism Is Solved"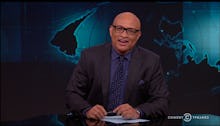 As Larry Wilmore opened up his final week on The Nightly Show after the late night show's abrupt cancellation Monday, the host wasted no time in addressing the elephant in the room with his in-studio audience. 
"So, how was your day?" he asks them jokingly. 
Explaining that the show's final episode will air Thursday — which drew a chorus of boos from the crowd — Wilmore noted how proud he was that the show was able to tackle very important political and social issues in the guise of comedy throughout its 19 months on air. 
"Our show was at its best when the news was at its worst," he says. "I'm just so proud that we were able to take on real issues and hopefully say something powerful while making people laugh on some very, very dark days." 
Wilmore's official statement on the cancellation had its own twist of irony — noting that his show's popular "Unblackening" segment had now happened to his own show — and the host was similarly candid talking about it on air. 
"My only regret is that we won't be around to cover this truly insane election season," Wilmore continues. "Although, on the plus side, our show going off the air has to only mean one thing: Racism is solved. We did it!" 
Wilmore then transitioned to his aforementioned segment, "The Unblackening," this time breaking down Donald Trump's absurd claims from last week, including his claim and subsequent backtracking of the notion that President Barack Obama is the "founder of ISIS."
"I gotta keep it 100 about this election," he says. "Donald Trump has stopped being funny. He's stopped being outrageous. He's stopped being politically incorrect. He's just downright dangerous." 
Watch Wilmore's opening segment here.