Katie Ledecky's Record-Breaking Win Only Took Second Place in This Sexist Headline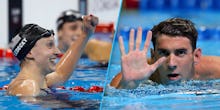 Sexism demands that women be twice as talented as men just to be considered their equals. But even when Olympic swimmer Katie Ledecky shattered the world record in the women's 800 freestyle on Saturday — finishing 11.38 seconds ahead of the second-place winner — it wasn't enough to earn top billing in a Colorado newspaper headline.
Instead, the Bryan-College Station Eagle gave silver medalist Michael Phelps all the glory when it ran an Associated Press story about the men's and women's U.S. Olympic swim teams. 
In large print the headline reads, "Phelps ties for silver in 100 fly." And below, in a smaller font, came this salient reminder of what it's like to be a woman: "Ledecky sets world record in women's 800 freestyle."
"This headline is a metaphor for basically the entire world," wrote Twitter user Nancy Leong when she shared her shot of the local newspaper on Sunday. 
Men were quick to defend the editorial decision, telling Leong "Phelps is a household name and sells papers" and, besides, "Katie Ledecky" — who claimed a gold medal at the 2012 London Olympics — "was a no name to most before a week ago." 
Thanks for the helpful explanations, men!
Of course, the newspaper's gender bias comes during an Olympic season that's ostensibly set its own world record for slinging more patriarchal BS at female athletes than ever before. 
Women competing in the Olympics have had their achievements defined by, credited to or upstaged by their boyfriends and husbands, and some reporters have been content to erase women's achievements altogether. 
According to the patriarchy, a woman's gold is still less valuable than a man's silver.
Correction: Aug. 18, 2016