Diving in Olympic Track Is Legal — And It Won Shaunae Miller a Gold Medal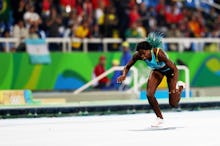 It seems that diving at the Olympics isn't just limited to the fart-water pool. At the women's 400-meter race on Monday, 22-year-old Shaunae Miller of the Bahamas clinched the gold by diving at the finish line — narrowly edging out American competitor Allyson Felix. According to Reuters, the two were "neck and neck until the Bahamian's gold medal-winning dive."  
"I think [the dive] was just a reaction, my mind went blank, the next thing I knew I was lying on the ground," Miller told Reuters. "I've got a few cuts and bruises but I'm okay."
Is diving at the finish line even legal in an Olympic track and field event? Yes, yes it is. According to the New York Times, Miller may not have even needed to dive at the finish line in order to win gold.
"The maneuver actually may have slightly slowed Miller," the Times reported, "as she began to put less force into the ground to propel herself forward. Still, Miller's torso crossed first, as required by the rules, and she took the gold medal in 49.44 seconds, her personal best."
Felix, who won silver in the race, told Reuters she was disappointed to have missed out on the gold for the 400-meter. "It's been a tough one and I really hoped it would come together tonight," she said.
"I just gave it all I had, I don't think I had anything left to give," Felix said. "I feel emotionally and physically drained at this moment. I really wanted it, it's painful."