Hillary Clinton Is Running Away With Virginia. Here's Why That Could Be the Ballgame.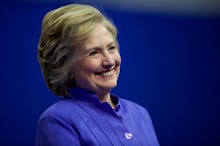 A Washington Post poll released Tuesday finds that Virginia, once seen as a closely divided toss-up state, is shaping up to be solidly blue territory this year — a development that could all but close off Republican nominee Donald Trump's path to the presidency.
In the poll, Democratic nominee Hillary Clinton thumped Trump 52% to 38% among registered voters, while she led 51% to 43% among those likeliest to vote in November.
The former secretary of state is propelled in large party by overwhelming support among voters in the Washington suburbs, who backed her 68% to 23%. Obama won those voters by a 26-point margin on his way to a four-point victory in the state four years ago. Clinton also leads Trump in the D.C. exurbs, the Richmond area and the Tidewater region; the Republican leads only in southwest Virginia, a region hard-hit by the decline of the coal industry.
The survey dovetails with other recent polling in Virginia, where Clinton bests Trump 48% to 38% in the RealClearPolitics polling average. Polls taken earlier in the cycle found the race closer, but Clinton hasn't trailed Trump in a single public poll there. 
Here's why it matters: Assuming Virginia remains Clinton country — and given Trump's 65% unfavorability rating in the Washington Post poll, it's likely to — she can afford to lose every single swing state where she leads by less than four points in the RCP average, and still reach the 270 electoral votes required for victory.
Of course, even that scenario is a long-shot for Trump. According to RCP's state averages, Clinton is currently on-track to win 362 electoral votes to Trump's 176.
As it looks to rejigger the electoral map, the Trump campaign continues to make a play for Pennsylvania's 20 electoral votes, but recent surveys show a clear trend toward Clinton in the Keystone State. She leads Trump 49% to 40% in the RCP average there.