Free People, the Nation's Leading Retailer of Bad Ideas, Is Selling Dreadlocks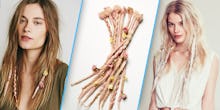 August 16, 2016, 6:16 p.m.:  Free People's clip-in dreadlocks are no longer available on Free People's website. In an email to Mic, a representative said the following: "Free People's designers and buyers draw inspiration from fashions and trends from across the globe. In hindsight, we missed an opportunity to recognize the rich history and diverse cultures that have contributed to the timelessness of dreadlocks, and we have therefore decided to pull the product immediately."
Mic's original story on the clip-in dreadlocks appears below. 
Free People, the one-stop shop for girls looking for a breezy summer dress or an item of clothing ripped from Native American culture, is now selling.... wait for it.... dreadlocks. Again. 
That's right, as if the retailer hadn't offended entire populations of people enough, now it's selling clip-in dreadlocks, a hairstyle typically associated with black culture, a la cornrows. 
Now, for just $128, you too can walk around looking like the lead singer of the Counting Crows. Now, you too can wear a hairstyle that, when worn by black people, has gotten people banned from school and fired. What a privilege. 
"Add a little something extra to your do with these colorful dreadlock extensions featuring wood, bead, and flower accents," Free People's website reads. "Comb-on application makes for easy on and off wear. Comes in a pack of 10." 
The dreadlocks themselves come in shades of "springtime pink" and "neutral tie dye," and come with tiny flowers and beads woven into them. Because what says springtime like clipping in some fake hair that is emulative of a style that is not a part of your culture whatsoever? Both of the models who are featured wearing the dreadlocks are white.
Though, this isn't even the first time Free People has sold clip-in dreadlocks. They also sold them back in 2014, and received backlash then as well. 
Two years ago, Free People certainly didn't gain any fans on Twitter because of the clip-in dreads, and the same goes for now. 
Stay tuned to see if Free People starts selling clip-in cornrows, clip-in bantu knots and hey, maybe even more feather headdresses.