Racewalker Tom Bosworth Proposes to Boyfriend Harry Dineley During the Rio Olympics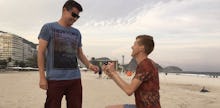 Last week at the Rio Olympics, rugby player Isadora Cerullo was proposed to by her Olympic volunteer girlfriend Marjorie Enya. (She said yes, natch.) Now, yet another same-sex couple has promised to tie the knot at the Rio Olympics.
The latest comes to us courtesy of British race walker Tom Bosworth, who made the solid choice of doing it on a beach. He tweeted a picture of himself on one knee Tuesday, presenting his now-fiancé Harry Dineley with a ring.
Dineley then tweeted a photo of the ring. 
The Bosworth-Dineley engagement is preceded by last week's lesbian rugby love story, in which Olympic volunteer Marjorie Enya proposed to girlfriend Isadora Cerullo. 
These stories aren't surprising when you consider that this year's summer games is considered to be the most LGBTQ-inclusive yet. Estimates differ, but between 41 to 49 openly gay athletes traveled to Rio this year. This number is significantly higher than it was at the 2012 Summer Olympics in London, where there were only 23 out athletes in competition.
The influx of gays hasn't been all marriage proposals and rainbows, though. Last week's Daily Beast debacle — in which a straight, married reporter wrote a controversial article about cruising for gay Olympic hookups on Grindr — demonstrates that we clearly still have a ways to go before we finally reach a peaceful state of gay Olympic harmony.
Still, it's an encouraging sign to see that more Olympic athletes are comfortable coming out and even staging public proposals to their partners while at the Games.