Aetna Is Snubbing Obamacare, And Two Other Reasons You Will Spend More on Health Care Soon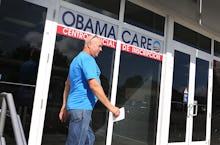 It has been a tough week for the Affordable Care Act and the millions of Americans whom it benefits.
Aetna, the third-largest health insurer in the country, announced Monday that it would be withdrawing from about two-thirds of the local online exchanges where insurance is sold to individuals through the ACA. The first and fourth-largest insurers, UnitedHealth and Humana, have also recently signaled that they want to pull back from the exchanges.
Why is this bad for consumers?
Not only will there be fewer options for Americans shopping for individual or family plans — it also means prices could rise, since there will be less competition to keep costs in check.
Unfortunately, Aetna's announcement is not the only recent setback for consumers looking to visit doctors or buy prescription medication. Here are three major forces at play that could push up your health care costs this coming year.
Some parts of the United States are becoming health care deserts
The online exchanges created by the ACA are where a majority of newly insured Americans have gone to find cheap health insurance. As of February 2016, 12.7 million of the roughly 20 million people insured since the law's passage did so through the exchanges. 
That means it is a big deal that Aetna, for example, is pulling out of 11 states.
The insurer was only in 15 to begin with, and the move will leave at least one U.S. county — Pinal, Arizona — at risk of being without any insurance companies offering health coverage through the exchanges in 2017.
Costs are already rising in states like New York, and Aetna's move will just accelerate the broader trend of decreasing competition among insurers in the exchanges across the majority of U.S. states.
Too many people are canceling coverage after making claims
Insurers have been arguing for a while that the current market climate makes it too hard for them to make money.
One big problem? Insurance companies say they pay more in claims than they get in premiums.
An example: In Pennsylvania, nearly 250 ACA policyholders racked up more than $100,000 in medical bills before canceling their coverage before the end of the year, according to the testimony of an insurance executive at a state hearing, as reported by the New York Times.
In short, without enough healthy people to balance out the costs of unhealthy people, insurance companies can't make money, and therefore will pass costs to consumers — or withdraw from the market altogether.
Insurers don't want to cover all your prescription drugs 
Another reason your health care costs could go up this year?
Prescription insurers, including giants Express Scripts and CVS Caremark, this month made a whole bunch of additions to their so-called "no pay lists" of prescription drugs they won't cover. 
The companies say the move was made to prevent consumers from having to shell out for expensive medications when cheaper alternatives are available.
But that could be a big problem for many consumers, some of whom need a brand-name drug because the equivalent generic is not a perfect match or doesn't exist. Plus — if there isn't an obvious generic replacement for a given drug —patients will have to go to back to their doctors and identify an alternative.
That means more doctor visits. 
Is this necessary? 
Insurers claim that they're just trying to adapt to a new way of doing business. All five of the major insurers in the United States say they have lost money on their ACA-related businesses. 
But some progressive politicians, including Massachusetts Senator Elizabeth Warren, are skeptical. 
In a Facebook post last week, Sen. Warren posited that Aetna was just trying to gain leverage against the Justice Department, which took steps last month to block a proposed merger between Aetna and another insurer, Humana.