This Woman in Tech Was Slut-Shamed — And Clapped Back With the Most Devastating Response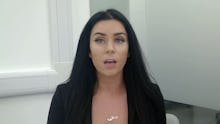 A cybersecurity expert at an IT security firm posted a photo on her company's LinkedIn, asking followers to guess how many USB sticks she was holding to win a bottle of champagne. The responses were horrifying. LinkedIn deleted the post altogether. 
To which Jayde, the Foursys account manager featured in the photo responded: "Shame on you." 
In both a YouTube video and a company blog post, Jayde and Forsys rallied against the online trolls, citing a gender disparity in the tech industry as a major driver for the outpouring of degradation. 
In the YouTube video, Jayde confronts the cyberbullies and adds that people found her Facebook profile and "posted graphic and violent messages about what they wanted to do to me." She continues:
"For all of those who say that I know nothing about IT security: Shame on you. I know more than 99% of people you'd meet on the street. I can tell you what a denial-of-service attack is, how SQL injection works, and how to your protect against ransomware. To be perfectly clear: Bullying and shaming people because of the way that they look or how they choose to dress is nasty, and I am not just going to take it — and neither should you." 
Jayde then tells her viewers to stand up and call out cyberbullies. Forsys marketing manager Andy Wool, in a live chat on the company website with Mic, said that "of course" something like this could happen to a man in the tech industry, "but it doesn't happen as often because tech is a male-dominant industry. Only by restoring balance and getting more women in tech will this change our caveman-like views." 
Wool added, "Of course we were surprised, it's not the 1970s." No, it's not. It's 2016 and women still hold only 26% of tech jobs. Internet trolls will even spout sexist comments at a game developer Barbie doll. 
We've seen this demeaning attitude toward women in technology time and time again — it's what sparked a movement at Google in which employees added "Lady" to their job titles. And it's what urged Ellen Pao — after suing her former employer for gender discrimination — to form an advocacy group, Project Include, which focuses on diversifying the tech industry. 
This also shines a light on the lack of proper regulations on social media platforms to deal with online harassment. Wool said it took five days for LinkedIn to respond to him as to why they deleted the entire post, first citing an error on Foursys's part, then claiming it was a technical problem before landing on the reason that it went against LinkedIn's guidelines. 
He told Mic, "I was hounding their support team for an answer."