Cooking for one: 15 healthy recipe ideas for people who enjoy eating alone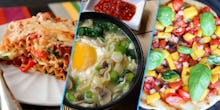 Cooking for one can be complicated. So many recipes are designed for pairs or groups, and they can be hard to adjust if you really just want a single serving of whatever you're making. 
We've got you covered with these recipes designed just for one. The best part of solo cooking: Not having to customize your dish to anyone else's pickiness. Layer on the extra American cheese, squirt on all the Sriracha you can handle — this meal is all yours! 
Here are a few single-serving recipes for inspiration: 
1. Single Serving Tomato Sourdough Soup
Is there anything more comforting than snuggling up to a mug of soup that's just for you? No. Grab a blanket, your favorite spoon and a side of Netflix because you're about to get cozy AF. Get the recipe here.
2. Single Lady French Onion Soup
If you like it then you better put an onion ring on it. Or something like that. No need to make a whole pot of soup for just one, so make this single lady soup for a slurpable treat. People of other genders are also free to enjoy. Get the recipe here.
3. Whole Wheat Pancakes for One
Skip the cereal for solo breakfast in bed and indulge in these healthy pancakes, portioned perfectly for one. Get the recipe here.
4. Kale, Fried Egg and Avocado Toast
Three trendy ingredients, one dish, one serving. Check! This healthy toast recipe is kind of perfect for breakfast, lunch, dinner or a snack — try poaching or scrambling the egg on top to mix things up. Get the recipe here.
5. Single-Serving Pizza Dough
Close that pizza app — you're not ordering a pie for one tonight. Take the healthy (and fun!) route and make your own dough, portioned for a single pizza, and top it with as much cheese as you want. You earned it. Get the recipe here.
6. Simple Kale and Black Bean Burritos
Solo burrito night is kind of awesome. Flavored with fresh garlic, cilantro leaves and avocado and feta cheese for creaminess, these healthy burritos may just inspire you to quit your Chipotle addiction. Get the recipe here.
7. Peach, Chicken and Gorgonzola Balsamic Quesadillas With Arugula Pesto 
You can whip up this gourmet, fruit-filled quesadilla almost quicker than you can say the name of this dish. The fifteen minute recipe for one is packed with healthy ingredients and looks impressive enough to Instagram, making your friends wish they actually did come over for dinner. Get the recipe here.
8.  Veggie Pot Pie in a Mug
Those 99-cent individual frozen pot pies are tempting, but grab puff pastry from the freezer aisle instead and get to work on these veggie pot pies. This recipe actually calls for four, but it's so delicious it was worth putting on the list (freeze the rest and have no regrets). Bonus: The recipe calls for just half a cup of wine which means you have the rest of the bottle to drink on your own... Get the recipe here.
9. Sesame and Soy Seared Tuna
High in protein, flavor and just the right size to serve one, this quick tuna recipe is tasty on its own or with a side of greens or grains for a complete meal. This recipe happens to serve two, so bring the leftovers for lunch. Get the recipe here.
10. Jerk Salmon With Sweet Spicy Slaw for One
This fancy meal is all protein and veggies and is designed to serve one so you don't have any weird fish leftovers. Get the recipe here.
11. Roasted Vegetable Lasagna Stack for One
Making a pan-full of lasagna is both impractical and time consuming for just one person. Luckily, this single-serving vegetarian lasagna recipe will quench all your layered noodle cravings and get some greens in your diet. Get the recipe here.
12. Quinoa Salad with Hazelnuts, Apple and Dried Cranberries
This solo salad is loaded with fruit and nuts, which give it a nice crunch. Get the recipe here. 
13. BLT Lettuce Wraps
Bacon may not exactly be the mascot of healthy eating, but when it's surrounded by veggies, we're just going to push it into the nutritious category. This recipe feeds one and you can totally sub in veggie bacon if that's your thing. Get the recipe here.
14. Quick Ramen Bowl
Escape your ramen slump with this super easy instant ramen hack that adds both veggies and protein to your ramen routine. Estimated meal cost: $1.01. Get the recipe here.
15. Five Minute Single Serving Apple Crisp
While dessert may not be the healthiest part of the day, making your own fresh fruit creation is so much better than just digging a spoon into what is definitely not a single-serving pint of Ben & Jerry's. Plus, the calories you burn cooking help you earn dessert, right? Get the recipe here.