iPhone 7 Leaks Reveal the Most Controversial Features of Apple's Next Device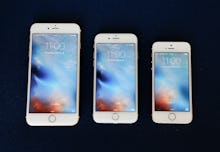 The iPhone 7's release date is approaching quickly, which means it's crunch time for Apple device owners considering an upgrade. We've seen rumor after rumor and leak after leak, along with concept videos and mock-ups showing dummy models of the iPhone 7 based on specs coming out of Chinese factories.
At this point, we have a pretty good idea of what the iPhone 7 is going to look like. But what's inside it? Will the internal features be good enough for you to ditch your iPhone 6?
Turns out, there are a few surprises. Forbes compiled the latest rumors into a great piece on the iPhone 7's potentially disappointing internal updates. Details below, but the takeaway is that if you were expecting the hot new thing in mobile tech, this phone isn't it. Inside and out, it's ... just kinda boring.
No update for the home button. It was rumored that Apple would replace the iPhone 7's home button with a touch-sensitive screen segment that wasn't a button at all, according to MobiPicker. It sounded like a smart move: Apple would lose a clunky, old-fashioned feature that takes up a large area of the screen and often fails, Forbes argued. Sadly, new leaked specs from MacRumors show a shape for the classic home button. Womp womp. 
The speakers are still bad. Leaked designs seemed to reveal a second speaker grill on the iPhone 7, replacing the headphone jack, which suggests stereo sound instead of mono. According to schematics obtained by Nowhereelse.fr, the matching grill is just for show, however. That's where you can find the microphone.
So we lose the headphone jack and gain ... what, exactly? 
Here's what we actually get: More storage on the base model, an improved camera for low-light shots, better battery capacity, potential new colors and maybe even water resistance. 
Compared to the sea changes we've seen in previous iPhone updates, though, this isn't much. The 7 seems like another 6s (one rumored name for it is the 6se). It may be best known for the feature it's removing: the headphone jack, which will force users to buy a USB-C adapter or use expensive Bluetooth headphones. This could become a problem for Apple, as Forbes' Gordon Kelly describes:
If such features get chipped away, the loss of a headphone jack in conjunction with a third year of largely unchanged external design set against the backdrop of falling sales could spell trouble and imply stagnation.
TL;DR: If your contract is up and you want to replace your iPhone 6 with something futuristic, you might want to hold out for the rumored iPhone 8 in 2017. Or jump ship and try one of Samsung's fancy new models, like the Galaxy Note 7, which Mashable called the "best smartphone money can buy." It's got the best camera in the mobile-device world and unlocks by scanning your eyeballs.