Tulsa Man Stanley Majors Allegedly Killed Khalid Jabara After Calling Him "Dirty Arab"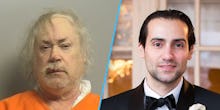 Stanley Vernon Majors fatally shot 37-year-old Arab American Khalid Jabara in Tulsa, Oklahoma, the Tulsa World reported.
Victoria Jabara Williams, Khalid's sister, stated in a Facebook Post that Majors, who lived next door, has taunted them in the past numerous of times and hurled racial slurs at them.
"He often called us 'dirty Arabs,' 'filthy Lebanese,' 'Aye-rabs,' and 'Mooslems' — a fact highlighted by the Tulsa Police Department who also heard these comments from the suspect," Jabara Williams wrote. "The suspect's bigotry was not isolated to us alone. He made xenophobic comments about many in our community — 'filthy Mexican' and the 'n' word were all part of his hateful approach to anyone from a different background."
Previously, Majors was arrested on assault charges for running over Haifa Jabara, Khalid's mother, with his car in September, leaving her with a broken shoulder and several other injuries.
Jabara Williams also pointed out that Majors was allegedly able to kill her brother because he was awaiting trial for hitting her mother with a car. She implies that this could've been prevented if Majors was simply charged with a hate crime rather than an assault charge.
"He killed our brother while awaiting trial for running over our mother, resulting in a broken shoulder, collapsed lung, broken ankle, broken nose, head trauma, and fractured ribs amongst other injuries," she added. "Only 30 minutes prior to my brother's shooting, Khalid called the police stating this man had a gun and that he was scared for what might happen. The police came and told him there was nothing to be done. Minutes later, the suspect murdered our brother with four shots."
"Khalid's heart was big," Jabara Williams said. "He cared for our entire family, our friends and people he didn't even know. He created every Jabara family joke and filled our lives with love and laughter. All of that has been taken away from us by this hateful man and a system that failed to protect our community."