On a budget? Here are 13 cheap and healthy recipes that'll satisfy you and your wallet.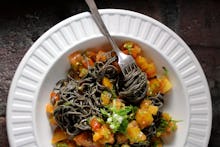 Eating healthy doesn't have to be expensive. In fact, it can be so inexpensive you'll wonder why you ever doubled up on ramen noodle packets for dinner and skipped the veggies. 
Buying local and in-season foods and joining a farm share program, such as a CSA, can help reduce the costs of cooking fresh produce, which is easy to incorporate into your daily meals and snacking. 
And the freezer can be your savior —  it'll come in handy when tomatoes are out of season and you're eager to eat a homemade spaghetti sauce. Plant-based proteins (like beans and tofu) are typically less expensive than meat and whole grains keep you fuller for longer (thanks, fiber!), meaning that box of whole grain spaghetti may last four meals instead of two. 
Here are some healthy food recipes that won't break the bank.
Roasted beets, blue cheese, orzo and walnut salad
Root vegetables are inexpensive and are high in vitamins absorbed from growing in the soil. This recipe has just enough pasta to make it feel indulgent, and you can always stretch the ingredients out by serving over a bed of arugula or other salad greens. Get the recipe here.
Thyme chard lentil quinoa stew
This stew is extremely easy to make — most of the cooking is hands-off — and uses healthy, flavorful ingredients that should cost less than any takeout meal. Plus, you'll have leftovers for days. Get the recipe here.
Easy black bean spaghetti dinner in minutes
Made with only organic black beans, this spaghetti packs in 20 grams of protein per 20 oz. serving, so you're tricking yourself into eating basically pure protein in spaghetti form. This no-cook sauce recipe is as simple as it gets, and serves four, so you can impress your healthy-food obsessed friends. Get the recipe here.
Greek salad flatbread
Salad is boring, salad on pizza is not. Making your own whole-wheat flatbread dough is also surprisingly easy and cheap, and it can be put to a variety of uses. For now, start with salad. Get the recipe here.
Stuffed spaghetti squash burrito bowls
Replacing the carb-heavy rice and tortilla of a burrito with half a spaghetti squash is brilliant! Not only does it look awesome, but all the squash strands inside soak up the burrito-flavored goodness in this vegetarian dish. Get the recipe here. 
Healthy walking tacos
Is there anything healthier than walking while eating a taco? Probably. But there's really no better way to stretch your legs than while shoveling tasty turkey taco meat in your mouth with flax chips. This also makes for a great party food! Get the recipe here.
Raw vegetable pad thai
Curb takeout cravings (and calories!) with this spiralized, salad-like take on vegan pad thai. Get the recipe here.
Avocado couscous grapefruit salad
This refreshing and satisfying salad is right off a chic spa menu, but without the price tag. Sub in farro or other grains for couscous, if you want an extra fiber boost. Get the recipe here.
Lentil tagine with whole wheat couscous
This is the type of recipe that somehow becomes even more delicious leftover. Just top with fresh feta and cilantro each time and it's like you're eating a brand-new dish. Get the recipe here.
Shishito soba
Made from buckwheat, soba noodles have many more nutrients than your standard dried noodle. Buy them in bulk to save money. This dish is ridiculously easy and the ingredients are easy to have on hand for a last-minute meal. Get the recipe here.
Chickpea spätzle with shallots and collard greens
When you're craving a starchy dinner, this greens-laden, gluten-free dish is the perfect fix. Get the recipe here.
Super clean broccoli salad with creamy almond dressing
Salad may not be the most enticing meal, but when it's as crunchy and creamy as this one, you'll forget this dish even falls in the salad category. Get the recipe here.
Bian dou men mian (steamed noodles with green beans)
Chinese takeout may be a go-to, but cooking is pretty much always healthier and cheaper (in the long run, you'll get more food for your money). This noodle dish combines steamed foods with a little bit of stir fry for the best of both worlds. Get the recipe here.