The healthiest fast food menu items at McDonald's, Subway, Panera, Taco Bell and more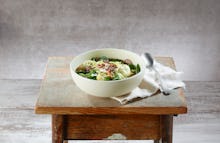 Fast food is tempting, convenient and cheap. While the scent of Chicken McNuggets may lure you under the golden arches more often than you'd like to admit, adapting a healthy diet doesn't have to mean swearing off fast food forever. And no, you don't necessarily have to get that sad side salad either. 
A good rule of thumb: Beware of some of the more traditionally healthy-looking foods, which may be misleading. "Fast food restaurants tend to take dishes that most people think of as healthy, like a salad, smoothie or a yogurt parfait, and turn them into calorie and/or sugar bombs," Allison Buckingham, certified dietitian-nutritionist and co-owner of Perelandra Natural Foods said in an email. 
Thanks to readily available nutrition information at pretty much every fast food chain, it's easier than ever to make informed choices about what you're ordering. Note that many salads are listed without the dressings, which can certainly add up.
Here are some of the healthiest options at major fast food chains. 
McDonald's: Artisan Grilled Chicken Sandwich
Calories: 380
Fat: 6 grams
Protein: 37 grams 
Sugar: Not available... 
While the Southwest Grilled Chicken salad has only 350 calories, it has twice the amount of fat as its sandwich equivalent! In general, opting for grilled foods at fast food chains is your healthiest bet. "I suggest sticking to the grilled items rather than the fried ones," Monica Reinagel, a licensed nutritionist at ReViVer said in an email. "These are usually lower in calories, but you also avoid the harmful fats and compounds that are formed when oil is heated to high temperatures and used over and over again as it is in a deep-fat fryer."
Burger King: BK Veggie Burger (sans mayo)
Calories: 310
Fat: 7 grams
Protein: 22 grams
Sugar: 9 grams
Skip the Whopperito with a side of Mac and Cheetos, and just have it your (healthier) way with the veggie burger at Burger King. Ask for no mayo, or at least the mayo on the side, so you can control how many additional calories and grams of fat are layered on that meat-free burger.
KFC: Kentucky Grilled Chicken Breast
Calories: 180
Fat: 6 grams
Protein: 31 grams
Sugar: 0 grams
Though this grilled option has the highest calorie count of all the grilled options at KFC, it has the most protein and is easily the most filling. Skip the combo meal (it's tempting, we get it) and opt for a side of green beans, which have 25 calories and almost no sugar or fat. 
Subway: Veggie Delite Salad
Calories: 50
Fat: 1 gram
Protein: 3 grams
Sugar: 6 grams
Opting out of bread is key for making a healthier choice at Subway. The Veggie Delite Salad is loaded with veggies and can be topped with olive oil, vinegar, salt and pepper for a low calorie, low fat dressing option. If you're craving meat in your meal, opt for carved turkey on top. 
Taco Bell: Fresco Shredded Chicken Soft Taco
Calories: 140
Fat: 3.5 grams
Protein: 10 grams
Sugar: 2 grams 
Skipping the sour cream and cheese isn't enticing, but these healthier-built tacos are more nutritious than traditional crunchy Taco Bell tacos. One isn't enough for a meal, so you can always compromise with a second gooey, cheesy taco creation. 
Panera Bread: Thai Garden Chicken Wonton Broth Bowl
Calories: 290
Fat: 6 grams
Protein: 23 grams
Sugar: 6 grams
While the bread bowls are tempting, broth bowls get you the most nutrients and protein in your meal and fill you up. Many of Panera's salads aren't too high in calories or fat, but be wary of the fat-free dressings, like on the 340-calorie Strawberry Poppyseed Salad With Chicken, which packs in 20 grams of sugar per serving. 
Chipotle: Kid's Build Your Own Soft Shell Corn Tacos With Chicken
Calories: 230
Fat: 4 grams 
Protein: 17 grams
Sugar: 0 grams 
Stuffing your face with a burrito the size of a small infant is obviously not the healthiest choice at Chipotle. Instead, eat like a child with the kid's meal. Keep in mind that rice, beans and toppings all add on calories and fat, but the portion control is key in creating this better-for-you option. Plus, it comes with a complimentary orange or grapes (skip the optional chips, sorry) and a box of organic milk!
Jimmy John's: Vegetarian Unwich (No mayo) 
Calories: 250
Fat: 19 grams
Protein: 16 grams
Sugar: Unlisted
Note that pretty much all of the fat come from provolone cheese in this lettuce wrap, so it's pretty easy to cut out.  Nutritionist Cassy Joy Garcia said via email that Jimmy John's is "a fantastic option for folks on the go.. you can turn ANY sandwich on the menu into a lettuce-wrapped unwich!" Garcia omits the cheese, mayo, and dressings, but adds hot peppers and doubles the meat for a complete meal.