All the incredible recipes you can make with cauliflower rice, a low-carb lover's staple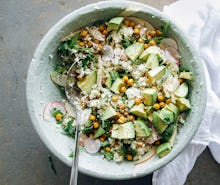 If you haven't tried cauliflower rice yet, come on and join the party. The grain-free rice substitute is super easy to make — just pulse cauliflower in a food processor until it's reached the consistency of rice grains, or couscous, if you prefer. You can also grab a bag of pre-made "riced cauliflower" at Trader Joe's, if you're feeling lazy. 
You can substitute the veg-based rice into any recipe that calls for cooked rice, so really your options are endless. Get inspired by the recipes below, which will surely convince you that cauliflower rice is capable of truly incredible things. 
1. 15 Minute Cauliflower Fried Rice
Make your fried rice all-veggie (and more nutritious) by using cauliflower as your base. Get the recipe here.
2. Almond Coconut Cauliflower Rice
This toasty, nutty rice-like dish works as a side and is flavorful enough to hold its own as a main course. Try it under a scoop of curry! Get the recipe here.
3. Roasted Cauliflower Tabbouleh Salad With Crispy Toasted Almonds
Cauliflower isn't just a substitute for white rice! This cauliflower tabbouleh is tasty and totally veggie-based. Get the recipe here.
4. Teriyaki Cauliflower Rice Bowls 
Guess what? Rice bowls don't need actual rice! Try this cauliflower rice bowl layered with healthy ingredients bringing on the flavor and texture. Get the recipe here.
5. Sushi Salad With Carrot Ginger Dressing
Sushi doesn't need to be rolled or rice-based. Skip the pricey sushi bar and make this simple sushi salad at home with cauli. Get the recipe here.
6. Cilantro Lime Cauliflower Rice
For all the flavors of Chipotle, without any of the actual rice, scoop this homemade cilantro lime enhanced cauliflower rice into a homemade burrito. YUM. Get the recipe here.
7. Cauliflower Dirty Rice With Andouille Sausage
Eat a little cleaner with this paleo-friendly dirty rice recipe based in cauliflower. A good entry for cauliflower skeptics — add andouille sausage to anything and it becomes much harder to dislike. Get the recipe here.
8. Low-carb Cauliflower Risotto 
Risotto without rice?! Indeed, it's possible. And delicious — thanks, cheese! Riff on this recipe by stirring in your mushrooms, green vegetables or seafood to the risotto. Get the recipe here. 
9. Low Carb Baked Chicken and Cauliflower Rice
A healthier take on a classic casserole, this Mediterranean inspired chicken bake takes one dish (or a Crockpot) and serves six. Get the recipe here.
10. Vegan Cauliflower and Garbanzo Beans Rice And Pea
Crispy, creamy, crunchy and super flavorful, this vegan recipe hits all the right notes, making you wonder why you ever even liked white rice in the first place. Get the recipe here.
11. Cauliflower Rice Paella
Traditional rice dishes get a new life when you use cauliflower rice. This paella loaded with seafood, sausage and chicken is based in cauliflower rice and it's kind of perfect. Get the recipe here.
12. Mexican Cauliflower Rice
Lighten up your taco bowl or just indulge in this tasty Mexican-flavored not-rice for a healthy meal. Get the recipe here.