Amber Heard and Johnny Depp to Settle Domestic Abuse Case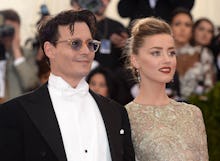 Amber Heard and Johnny Depp will privately resolve their divorce proceedings, according to a joint statement released Tuesday and emailed to Mic: 
Our relationship was intensely passionate and at times volatile, but always bound by love. Neither party has made false accusations for financial gain. There was never any intent of physical or emotional harm. Amber wishes the best for Johnny in the future. Amber will be donating financial proceeds from the divorce to a charity. There will be no further public statements about this matter.
Heard and Depp, who wed in February 2015, announced in May they were divorcing. At the same time, Heard filed a restraining order against Depp. She appeared in court May 27 with bruises on her face she said came from a recent altercation in which Depp had become violent, ripping a phone out of her hand and hurling it at her. She said he had smashed up their home with a wine bottle, hit her and verbally abused her. 
Depp fans and certain media outlets were voiced their disbelief of Heard's claims, sparking a conversation about blaming — rather than believing — the victim. 
Yet details continued to leak out: A series of texts Heard exchanged with Depp's assistant suggesting a pattern of domestic abuse that stretched back to 2014; witness testimony from the friend who called the police on Depp during the altercation in May. 
In June, Heard revoked the request for spousal support some had pegged as her motivation for accusing him of domestic abuse in the first place. At the time, she said it was being "used against me to distract and divert the public away from the very serious real issue of domestic violence."
Recently, the case has only become more complex: On Aug. 13, a video Heard had secretly recorded of Depp on a violent, drunken bender found its way into the media spotlight. Days later, a story surfaced about Depp using paint and blood from his recently severed fingertip to scrawl accusatory messages around the couple's home. 
Depp has remained largely silent on the allegations, but the proceedings have been messy, with both legal teams telling opposing stories. 
"We are very pleased that this matter has been settled and Amber has been vindicated in the Court of Public Opinion," Heard's legal team said in a statement, according to Variety. "The case was incredibly challenging and demanding on everyone involved, but mostly on Amber who showed great grace and strength under fire. It was an honor to represent her."
Aug. 16, 2016, 1:35 p.m. ET: This story has been updated.