If You Aren't Mixing Red Wine With Cola, You Have Yet to Live Your Best Life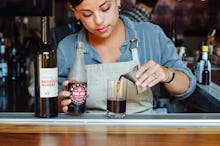 Red wine doesn't exactly have a reputation for being a refreshing drink: It's often associated with colder weather and heavy, meaty meals. But mix the wine with a hefty pour of cola and it becomes the perfect summertime drink — boozy, refreshing and not overly sweet. 
Called the kalimotxo (pronounced cal-ee-mo-cho), this combination of red wine and cola is a popular drink among teenagers in Spain, said Michael Gordon, the chef at BKW in Brooklyn, New York. "It's an easy way to make red wine more palatable," he said. "It's kind of like their Smirnoff Ice." 
Kalimotxos are extremely easy to make: The beverage consists of equal parts cold red wine and cola, mixed together in a cup. That's it. Some people like to add a splash of lemon too, the New York Times noted, but at its core, the kalimotxo is just a two-ingredient cocktail. Gordon recommended chilling the wine before mixing, even though this may feel counterintuitive.
When a drink is that simple, the ingredients used can make or break the beverage. It's important to stick to a dryer red wine like a zinfandel, pinot noir or a syrah as the base for the cocktail, Gordon noted. "When you are adding in another liquid that is so sugary, to keep it balanced you need a wine that doesn't have any sweetness," he said. 
Don't shell out for pricey wine either, Gordon added. Kalimotxo is often referred to as the "poor man's sangria," and like sangria, a more expensive wine doesn't necessarily make the drink better. The cola can actually mask or dampen the taste of the wine. 
As for the cola, Gordon said to stick with one that is made with real sugar over the kinds made with corn syrup. This ensures the kalimotxo doesn't become too sweet, he explained. Gordon prefers to make them with Boylan soda and uses the brand at the restaurant.
While a wine and cola mixture may sound strange on paper, it actually makes a lot of sense in practice, Gordon said. It's a real balance game.
"The sweet intensity of the cola gets toned by the wine, as does the aggressive carbonation of the soda," Gordon said. "Plus, some of the tannin from the wine gets toned down by the sweetness of the cola."
While kalimotxos are great the way they are, Gordon has taken the drink to the next level by transforming it into a dessert. At BKW, he serves the drink as a base for an ice cream float. "We put a large scoop of creamy mascarpone gelato in our version, which adds a nice smoothness," he said. Sounds good, no?
But for those making the kalimotxo float at home, Gordon said any decadent and rich plain ice cream will do. Vanilla is a great option, as long as it's high-quality. 
The drink, as well as the float, is a dreamy pick-me-up on a hot summer evening. Just be careful about how many you consume — especially after dinner. While it might not seem potent, the caffeine from the cola can add up, meaning your night might last longer than you expect.