The 7 Most Memorable Moments of the 2016 Rio Olympics So Far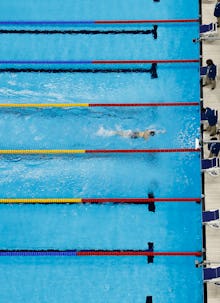 The 2016 Summer Olympics are a jam-packed 16 days where the world's best athletes push themselves as far as they can to bring home the gold. Luckily for us viewers — watching from our couches with a tube of Pringles, probably — the current of high pressure and high emotion running through every Olympic event means there's rarely a dull moment. 
Here are a few of the best from this year's Rio Olympics:
Laurie Hernandez's wink before her floor routine for the women's team all-around
U.S. gymnast Laurie Hernandez knew she was a winner the second she took the mat for her floor routine last Tuesday. 
Taking her mark, the 16-year-old gave the judges a confident wink before flipping and tumbling to a gold medal win for the women's gymnastics team final. 
Simone Manuel's historic 100-meter freestyle win 
On Thursday, fresh off a silver medal showing in the 4x100-meter freestyle medley, U.S. swimmer Simone Manuel was transcendent. Tying for first in the 100-meter freestyle, the 20-year-old became the first black woman to win an Olympic gold medal in an individual swimming event. 
She went on to clinch another gold in the 4x100-meter medley and a silver in the 50-meter freestyle.
"Phelps Face" — and the swimmer's 21st Olympic gold medal
Last Monday, U.S. swimmer Michael Phelps looked less than amused before jumping in the pool for his 200-meter butterfly semifinal — and the internet loved it. 
Of course, also of note is Phelps' 21st Olympic gold medal win that came shortly after, adding to his legacy as the most decorated athlete in Olympic history. Phelps closed out his fourth — and final — games with 23 gold medals overall. 
Simone Biles' floor routine
Simone Biles has captivated the world with her floor routine, which includes a combination so advanced only Biles can land it. According to the New York Times, the move — "a double layout with a twist and a blind landing" — is known as "the Biles." 
It was a routine that played a role in the U.S. achieving the team gold medal, and was an even more vital component of Biles' individual all-around campaign. Her 15.733 on floor boosted her lead over U.S. teammate Aly Raisman by a whopping 2.1 points, bigger than all the margins of victory from 1980 to 2012 combined.
On Tuesday, she Biles-ed her way to a record fourth gold medal in the floor exercise individual competition. 
Katie Ledecky's 800-meter record-breaking win
If you had just tuned in for the last lap of the women's 800-meter freestyle finals, the camera's bird's-eye view of the Olympic pool might have you think Katie Ledecky was swimming alone.
On Thursday, the U.S. swimmer not only finished the race 11.38 seconds before the silver medalist, but shattered the world record with her fourth gold medal win in Rio. 
Ledecky's performance was so outstanding, it called to mind another history-making moment:
Usain Bolt's 100-meter win
Jamaican runner Usain Bolt is so fast, he can even afford to take a split second during a race to savor the moment before his gold-medal victory.
On Sunday, Bolt became the only man to win three consecutive 100-meter Olympic titles. He also provided the world with this priceless shot.
Shaunae Miller's dive to a first-place victory
Bahamian Shaunae Miller took first at the women's 400-meter final on Monday, finishing the race with a dramatic dive across the finish line, edging out U.S. runner Allyson Felix.
The unorthodox move is not only totally legal, but also resulted in Miller clocking a personal best, winning gold with a time of 49.44 seconds.