FBI Seeks Developer to Build an App to Help the Government Spy on People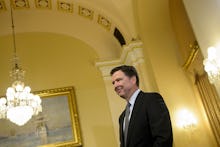 Are you an app developer? Are you covert as hell? Do you think we should all throw our privacy cautions to the wind? Boy, does the FBI have the job for you: design an app to help the government spy.
The Department of Justice posted a job opportunity last month to create something called a Smartphone-Based Audio Recorder. The technical requirements draft describes an app that would allow an FBI agent to "surreptitiously capture audio and video" on their smartphone. It describes two scenarios this piece of spy tech would be needed in: one is to collect live audio covertly (read: spy), and the other is to use the app as a recorder alternative to overtly record audio and video during an interview (read: not spy).
How the app would work: In the super-stealthy spy situation, the app would come preloaded onto an agent's phone and "run covertly in the background," the draft noted. The "person controlling the scenario" could remotely activate the microphone, storing recordings on the phone while at the same time transmitting live audio over a cellular network to a government-owned server in Quantico. In this situation, the agent should be able to disguise the app in use, whether it's showing a fake app on the screen or requiring some special pattern of taps and swipes to bring the app into view. Aw, discretion. 
In the nonundercover scenario, the person with the device would launch the app to begin recording audio and video for a "consensual, one-on-one interview," according to the draft. The user will then upload the files over a cellular network to a government-owned server. 
The job description goes on: If you do decide you are the developer for the job, your work won't end with developing the app. You'll also be responsible for updating the app for all of the platforms needed — Android, iOS and Windows — as the operating systems update. 
The draft noted there should be no jailbreaking required, so this spy tech will likely be available to download in an app store. You will also be in charge of training "as many as 10 government technical personnel" who will then go on to help "many end users" use the software. This means your beautiful mole baby will be out and about, gathering all of that data and sending it back to Quantico. 
Mic reached out to Apple, Google, Microsoft and the FBI for comment.
Aug. 17, 2016, 10:28 a.m. Eastern: This story has been updated.