Damian Marley Appears Crucified With Muslim Man, Police Officer in "Nail Pon Cross" Video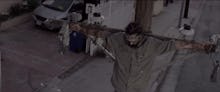 Few musical lineages have understood music's power to shape minds and shake nation-states like the Marley family does. Through even the brightest, radio-friendly numbers, their music has always made striking demands for justice and spiritual equality. Darker times always demanded more urgent statements, and today, Damian Marley is carrying that torch — or cross, as the case may be.
On Tuesday, Marley dropped the video for his latest song "Nail Pon Cross," premiering below on Mic and available to stream via Tidal. The treatment translates the song's religious imagery in an extremely literal fashion, depicting Marley crucified upon a telephone pole alongside members of some today's most misunderstood and frequently vilified groups: a young black boy, a Muslim man, a Mexican man and a police officer.
Marley's intended message leans on this diversity. The video does not seek to single out any one movement or prejudice. It merely seeks to get viewers to reconsider the way they view their fellow human beings day to day.
"It's just kinda holding up a mirror to society and saying, 'Hey, look how judgmental we can be,'" Marley wrote in a statement to Mic. "When I wrote this song, I wasn't thinking about police or politics. I was just thinking about basic everyday life. How we judge each other. How we judge our friends. How we judge everything. So that's really what this song is about."
"I want to make it clear that we're not trying to portray Christ," Marley's statement continued. "Christ is one of thousands upon thousands of individuals who died upon a cross. It could be anybody. It's more about the idea of judging and persecuting somebody in the most public way, instilling a mentality of fear."
Reports of crucifixion still pop up in war-torn areas of the Middle East. But fearmongering doesn't necessarily require blood to have its effect. This election cycle has been full of rhetorical witch hunts, with candidates at all stages of the race demonizing various groups for supposedly making the country less than great. 
This climate, Marley says, is jeopardizing our society's stability more than any other, and it works in two directions: with the powerful demonizing the powerless and people on the ground overlooking the individuality of those representing the state.
"Police officers in America have been branded nowadays to a certain level," Marley said. "You still have to remember that these people are all individuals. Not everyone in uniform abuses them power, but some people do. All of these people have to do with the kind of stereotypes that we see happening in today's society, where labels and stereotypes are put on these different people."
Watch the full video via Tidal below.
Aug. 16, 2016, 1:36 p.m. Eastern: This story has been updated.