Tommy Hilfiger doubles down on its commitment to outfitting kids with disabilities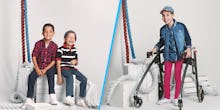 Back in February, Tommy Hilfiger, a company known for its preppy polos and well-fitting khakis, made history by being the first major brand to embrace adaptive clothing, or clothing designed for people with disabilities in mind. 
In a collaboration with the non-profit organization Runway of Dreams, which works with the fashion industry to create more options for people with disabilities, Hilfiger released a spring collection of children's clothing with features like MagnaReady magnet closures rather than buttons and adjustable waistbands for wheelchair users. 
Now, Hilfiger is doubling down on its dedication to creating hip, stylish clothes for young people with disabilities by releasing a new collection of adaptive clothing for the fall. 
In the newly expanded collection of 58 items, there are bomber jackets with MagnaReady magnet closures, T-shirts with closures along the back, pants with an elastic waist and cargo shorts with a velcro fly. 
"Seeing the success of the spring collection was an incredible validation of our mission and proves that there is a real need for adaptive clothing at the mainstream level," Mindy Scheier, the founder of Runway of Dreams, told Mic in an interview. "We are excited to work with Tommy Hilfiger again and bring more clothing options to the differently-abled community, especially as kids are getting ready to go back to school." 
"With this collection, we are one step closer to making that a reality for people of all abilities, including adults and children," Scheier continued. 
Runway of Dreams was founded by Scheier in 2013 when her son, who has muscular dystrophy, expressed that he wanted to wear the same clothes as his peers. Since then, the organization has collaborated with companies to make their clothing wearable for people like Scheier's son, but Hilfiger was the first major brand to take to the idea. 
The clothes in Hilfiger's collection address the various needs of people who have different abilities: for example, adjustable waistbands, pant legs and sleeve lengths for people who use wheelchairs or have limb differences, and alternative ways to put on and remove clothing. The clothes also cost the same as Hilfiger's non-adaptive collections, and the styles are nearly identical too. It's just the small details, like having velcro rather than zippers, that set it apart. 
The new collaboration also comes at a time when people with disabilities are becoming more and more visible in the fashion industry. From Jillian Mercado, who has muscular dystrophy, modeling for Beyoncé's merch site to Lauren Wasser, who lost her leg to toxic shock syndrome, walking in New York Fashion Week. 
"Our goal is to work with multiple brands and retailers to bring mainstream clothing options to people of all abilities, no matter their age or socioeconomic background," Scheier said. "The differently-abled community has been underrepresented in the fashion industry and, with this collaboration, we're able to show the market potential and encourage other brands and retailers to get on board. One day, I would love to see an adaptive section in every department store, just like there are petite and plus sections."