Schools in France Will Now Use a 3D Clitoris Model in Sex Ed Courses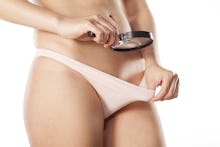 There are many useful things young people wished they learned during sex education, like what consent actually looks like and whether it's healthier to shave your pubic hair than to keep it intact. (Spoiler alert: It's not). 
Now, French schoolchildren will learn about female pleasure with the most pragmatic guide of all: a 3-D printed model of a clitoris.  
French scientist Odile Fillod recently collaborated with the Fab Lab, of the Cité des Sciences et de L'Industrie in Paris, to create a 3-D printed model of the clitoris, the genital pleasure center that is partially obscured by the labia. 
The Guardian reported that starting in September, primary and secondary schools in France will use Fillod's educational sculptures to teach the biology of female pleasure. 
"Women get erections when they're excited, only you can't see them because most of the clitoris is internal," Fillod told the Guardian. "I wanted to show that men and women are not fundamentally different."
Sexist stigmas often keep people from exploring the biology of female pleasure, or even female anatomy in general. Earlier this year an American teacher in Michigan was even fired for saying the word "vagina" during an art history lecture. This mentality perpetuates sexual inequality, such as the fact that straight women often have far fewer orgasms than their male partners. 
One way to teach children that women are equal human beings is to talk about female sexuality without shame. Countries like the Netherlands and France are offering prepubescent children sex education, which has proven to be effective at combatting child abuse and promoting LGBTQ inclusivity. The Dutch even start sex education in preschool. 
For older students, age-appropriate lessons about the clitoris can also help empower young women to feel more confident about their own sexuality. 
"France has the reputation for being sexually sophisticated, but often it's about male sexuality," Fillod told the Guardian. He hopes that now female students will come away from class with a better understanding of their own bodies. 
"That pleasure is not some magic that only a partner knows how to give," he said.