No Fly Zone: This Is the Mariah Carey Billboard Airports Reportedly Considered "Too Sexy"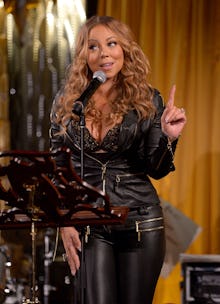 On Monday, TMZ reported that an ad for Mariah Carey's #1 to Infinity Vegas showcase was nearly banned from two California airports because it contained imagery that was "way too sexy." While the veteran pop star is no stranger to sexy imagery, this particular report left many confused. 
According to TMZ, Carey herself has been adamant that these airport ads remain unaltered and uncensored. On Tuesday, USA Today shared copies of the images in question: The billboards feature Carey in all of her usual glitz and glam, lying nude save for some sparkling jewelry and covering her breasts with a glittering gold sash. Frankly, it's tamer than many magazine covers and fashion ads.
Upon further investigation, USA Today's aviation writer Harriet Baskas discovered the TMZ report had several discrepancies. For one, the billboard couldn't be banned by airport administrators even if they wanted it gone. (Officials can make recommendations, however.) At John Wayne Airport, airport officials reportedly "did not nix, ban or intervene with the placement of the billboards near the airport. In fact on April 8 we approved the image of Mariah Carey that entertainment company AEG brought to us to run in the terminal." 
The only slight truth in the TMZ story could be found at the Burbank-Glendale-Pasadena Airport, where officials "simply requested that the artwork be revised," Baskas wrote. 
It's unclear if the revisions requested by the airport were to further cover up Carey's breasts. For now, it seems only one thing is clear: The golden billboard will in fact be posted on Aug. 22 for fans, flyers and gossip bloggers alike to see.