Is Accused Sexual Harasser Roger Ailes Giving Donald Trump Debate Advice?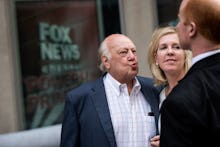 Donald Trump's presidential campaign is denying a New York Times report that he's receiving pre-debate advice from Roger Ailes, who got pushed out of his top job at Fox News over a sexual harassment scandal.
The Times, citing "three people briefed on the move, who insisted on anonymity," reported Tuesday that Ailes is "aiding Mr. Trump's team as it turns its attention to the first debate with Hillary Clinton, the Democratic nominee, on Sept. 26 on Long Island."
CNN also reported Tuesday that Ailes is advising Trump ahead of the debates.
The Times said it was not clear how long Ailes — who quit Fox on July 21 after a slew of accusations that he'd sexually harassed women at the network — had been advising Trump or what his duties would entail going forward.
Hope Hicks, a spokeswoman for the Republican nominee, said Wednesday that the embattled Ailes isn't part of Team Trump in any capacity.
Ailes saw his career at Fox fall apart after the revelation of a lawsuit filed by anchor Gretchen Carlson, who alleged that she'd suffered retaliation for refusing the chairman's sexual advances.
That news widened into a much larger discussion of whether there had been systematic abuse of and mistreatment of women during Ailes' tenure.
Trump himself, asked by NBC host Chuck Todd shortly after Ailes left Fox whether the ex-chairman was acting as an adviser, seemed to dodge the question.
"Well, I don't want to comment," Trump said. "But he's been a friend of mine for a long time. And I can tell you that some of the women that are complaining, I know how much he's helped them."
Obviously, Trump has often found himself on the defensive when it comes to his comments about, and treatment of, women in the workplace and the wider world.
Questions have been raised about everything from his remarks about breastfeeding women to his unflattering observations about the looks of his political foes and cutting comments he's privately directed at women.
A Washington Post-ABC News poll released last week found that 60% of respondents believed Trump is biased against women and minorities, while only 36% thought he isn't biased. In the poll, Clinton boasted a 58% to 35% lead among women voters.