Drake and Gucci Mane Collaborative Project 'The Sixers' Actually May See the Light of Day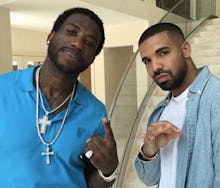 Gucci Mane has been putting in some serious work since his recent release from an Indiana federal penitentiary. Two months out, the Atlanta rapper has already released his latest album Everybody Looking along with a slew of videos, and guested on several more tracks including Kanye West's G.O.O.D. Music collaboration "Champions." However, his next project is set to go even bigger: Gucci Mane is apparently working on a collaboration with hip-hop's no. 1 hitmaker, Drake.
According to a VladTV interview released Tuesday, producer Zaytoven confirmed the two already have several songs in the bank for a project they're calling The Sixers.
The producer revealed Drake stopped by a music video set at Gucci's home — for a song he coincidentally referred to as "Gucci's Home." It wasn't long before the two started discussing a mixtape. "We just ran with it right then and there, and Mike Will jumped in ... everyone was in agreeance with it," Zaytoven said. "We just started doing songs for it already."
Recent Instagram videos show Zaytoven is currently in the lab, working on beats, though it's unclear what project they're intended for.
The mixtape's tentative title The Sixers, refers to both rappers' separate residencies: Drake being from Toronto's 416 area code and Gucci from being from Atlanta's Zone 6.
"I know we got like maybe two concrete for sure songs that'll go for the project," he said. "We did the songs at Gucci's house and Gucci sent them to Drake, and Drake already said he's knocking 'em out ... I only heard Gucci's part. I'm pretty sure Gucci has the Drake version by now, I just gotta get back over his house and listen to them."
Out of all the all-star collaborations that have been teased in recent years, this one actually seems to have the biggest potential of coming to fruition. Gucci Mane is an absolute machine in the studio by all accounts, and Drake mentioned he'll have new music coming soon at a Summer Sixteen show in July. It reportedly took six nights for Drake and Future to craft What a Time to Be Alive. With Gucci sober, the pair could easily put together a brilliant project in that same fashion. 
Watch Zaytoven's full interview below: