This Gold's Gym Franchise's Facebook Page Is a Body-Shaming Nightmare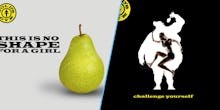 Apparently the folks over at this Gold's Gym franchise think that sharing mean-spirited and body-shaming memes on Facebook is a totally reasonable way to bring in new customers — because they keep doing it.
On Friday, the Gold's Gym Dreamland, located on the grounds of the Hilton Pyramids Golf Resort in Giza, Egypt, shared a post on its Facebook page with an image of a pear next along with the message, "This is no shape for a girl."
And Facebook users responded.
"Actually, it is," wrote one user. "Now give me one good reason why I should go to a gym that bullies girls, instead of gyms that actually encourage me to workout."
After a swarm of criticism, the gym appended a bizarre, non-apology to the post — but left the offending meme as is.
"Our apology," the post read. "This post was not meant to offend anyone, and not against god's creation, or any type of women's body, it was meant to refer to a Healthy Fit body and cutting fats, NOT THE ACTUAL STRUCTURE OF THE BODY."
"If that's all your P.R. team came up with, I'd fire them all," wrote a commenter in response.
For its part, the official Gold's Gym Egypt Facebook account roundly denounced the franchise's post in a comment, promising it had "proceeded with legal action" was taking "severe actions and consequences."
"Gold's Gym Egypt was built on values that would only encourage men, women, and children alike to love themselves proudly, regardless of their weight or physical appearance!" the company wrote.
Either way, a quick jaunt through some of Dreamland's Facebook history reveals a host of troubling memes.
Like this one, which pushes the harmful — and terrifying — narrative that within every fat person lurks a skinnier version, yearning to be set free:
Messages like these that use shame to promote a "correct" body type aren't just frustrating, they're harmful: A recent study found comments made to young women about their weight had lasting negative impact into adulthood.
"As Rick Ross would say, 'Shoutout to all my pears!!!'" wrote a Facebook user. "Fuck you Gold's Gym."
Mic reached out to Gold's Gym corporate offices, which directed us to this Facebook post on the company's national Facebook page. As of Wednesday, the Gold's Gym Dreamland Facebook page had been removed.
Aug. 17, 2016, 10:20 a.m.: This story has been updated.