Woman Confronts Man Who Masturbated on Subway — And Her Fierce Statement Is Going Viral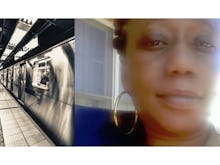 They say New Yorkers are tough. But even by big city standards, nobody is as fierce as Deanna Carter, a woman who recently busted out her phone and confronted a man who tried to masturbate in front of her on the subway. 
"Rubbing your dick? What the fuck are you doing?" Carter shouts in the mobile video. "Do it again and I'm gettin' up out this chair and I'mma bust your fuckin' ass on this train ... you rub your dick when you get off the motherfucking train. Do we fucking understand each other?"
The man nods slightly, but Carter isn't satisfied. So she tells him to get off the train at the next stop. 
"Say, 'I understand you, Miss,'" she says. He complies, promptly exiting the train.
After Carter posted the video of her confrontation on Facebook, it quickly garnered more than 17,000 shares. That's probably because she's far from the only woman to be sexually harassed on the subway. In 2010, for instance, fellow New Yorker Nicola Briggs confronted her own subway harasser after he exposed himself to her on the subway; the footage from that incident also went viral.
Hundreds of women face this kind of harassment on the subway every year. The Wall Street Journal reported that the rate of sex crimes on New York subways rose by more than 50% since 2015, with 458 sex crimes reported so far this year. These complaints include unwanted touching, indecent exposure and upskirt photos. 
According to surveys conducted by the advocacy group Stop Street Harassment, 65% of female respondents have experienced street harassment, including incidents on public transit.
So far, the culprit in Carter's video remains anonymous. But being called out and shamed — both on the subway and on Facebook — probably lent a whole new meaning to the term "public exposure."