Everything We Know About 'The Walking Dead' Season 7 So Far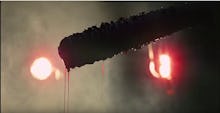 If you are still upset about The Walking Dead's sixth season finale, even the most ardent fans likely wouldn't blame you. AMC's zombie series ended on a cliffhanger, introducing its newest big bad, Negan, before cutting away without revealing who Negan killed with his beloved barbed-wire-laced baseball bat.
For months, then, the passionate fanbase has been left to wonder: Who was on the receiving end of Negan's brutal beating? We likely won't know the answer until the season seven premiere — the show reportedly filmed several takes of different characters getting beaten to death, so even leaks could be unreliable — but there's plenty else to comb through that the series is less secretive about. 
Here's everything we know about The Walking Dead's seventh season ahead of its Oct. 23 premiere. 
The San Diego Comic-Con trailer is pretty impressive, especially in spite of not revealing much. Last month, during Comic-Con, AMC released a three-minute trailer for the new season — and they did so without spoiling the fate of Negan's victim. Instead, they tease the death with a game of eeny, meeny, miny, moe, simultaneously cutting to flashbacks of the characters during, well, better times in the zombie apocalypse. 
At the very least, The Walking Dead deserves credit for putting together a captivating trailer despite these limitations. The rest of the time was spent focusing on characters that weren't captured by Negan in the finale, like Carol and Morgan, along with some new faces. 
Ezekiel and Shiva are coming. The trailer introduced a couple of new characters from the comic book source material, including a literal tiger, Shiva, and his owner, Ezekiel. Ezekiel is the leader of another post-apocalyptic community called the Kingdom. The Kingdom, it appears, is where Morgan and Carol wind up — and if the Kingdom on the series is similar to the comics, it's a friendly outpost for Rick's group. 
Members of the Kingdom also wear slightly absurd-looking armor (like the unnamed man Rick and Morgan briefly encountered in season six), but any group is inherently badass when there's a tiger in the mix. From just one glimpse, the CGI Shiva looks awesome. 
It's Negan's world now, and Rick's just living in it. Despite not knowing who Negan kills yet, the implication is clear: Rick and co. are a part of his world, not the other way around. Season six spent the majority of its time focused on Rick and the rest of the Alexandrians as they nabbed key victories against Negan's lackeys; it wasn't until the final sequence of the season six finale that they realized what they'd done was, quite simply, ineffective. 
"It's going to be a whole new beginning for The Walking Dead," Jeffrey Dean Morgan, who plays Negan on the show, told Entertainment Weekly. "Really, we've taken the show and just flipped it upside down. It's a different show now. It's going to have a different feeling. You're going to see your favorite characters in a position that they've never been in before, which is super vulnerable and victimized." 
The show is teasing Daryl's fate, which means he's probably alive. Again, we don't know who Negan kills, but we can likely remove one name off the shortlist: Daryl Dixon. On Monday, AMC released another clip from the new season, in which Dwight (the asshole who shot Daryl in season six) is taking Daryl's motorcycle for a ride and wearing Daryl's iconic motorcycle jacket with angel wings on the back. 
However, if anything, that should confirm that Daryl does in fact make it out of Negan's punishment alive. Look at it another way: If AMC really did go through with filming multiple characters getting beaten to death for the sake of in-house secrecy, it's unlikely that they'd then go and spoil the fate of the doomed character in a clip two months before the premiere. 
For now, it's safe to assume that Daryl is safe — though when Negan is running things, that's not a guarantee for too long.