Long Island middle school forced a Muslim student to say he pledged to ISIS, lawsuit says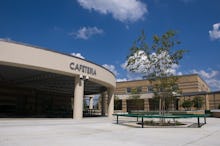 Some Muslim children are bullied, taunted and name-called "terrorist" on school playgrounds, but some are even tormented by their school administrators.
This is the case for Nashwan Uppal, a 12-year-old Pakistani American student at East Islip Middle School, who just filed a $25 million lawsuit against the school in Long Island, New York for doing just that.
It all started in the school cafeteria in January when Uppal's classmates asked him what he will be blowing up next, the New York Post reported. 
After noticing that school supervisors were doing almost nothing to stop the bullying, Uppal, who reportedly has a severe learning disorder and social disabilities, moved to another table in the cafeteria. The classmates followed him and continued on with their anti-Muslim taunts.
The next day Uppal was removed from his gym class by school administrators. East Islip Free Union District Superintendent John Dolan, Principal Mark Bernard and Assistant Principal Jason Stanton brought Uppal and interrogated him for terrorism allegiance. 
According to the lawsuit filed by Uppal and his parents, Stanton shouted at Uppal to confess that he was a terrorist.
"Stanton repeatedly asked Nashwan if he was a terrorist, and if he made bombs in his house," the complaint said. "Don't lie to us!"
Frightened by the treatment of his school administrators, Uppal wrote a letter confessing his allegiance to ISIS.
The letter, according to the complaint, said Uppal was a "part of ISIS, knew how to make bombs, that he had bombs in his house, and that he was going to blow up the school fence." 
The New York Post reported that school officials allowed Uppal to call his mother, and then informed her that her son planned to bomb the middle school as part of his allegiance to ISIS.
The local police then escorted Uppal and his mother, who came to the school after the phone call, to search their entire house. While the police found that Uppal was no threat, East Islip Middle School suspended him for a week due to "criminal activity."
Uppal's incident is eerily similar to that of 15-year-old Ahmed Mohamed, also referred to as "Clock Kid," when the high school student was arrested by local police after his English teacher had mistaken a digital clock he made as a bomb. After receiving a scholarship, and experiencing fear of religious and racial persecution in the United States, Mohamed moved to Qatar.
Unfortunately, Uppal and Mohamed's stories provide a troubling revelation: The adults that are meant to protect our children from bullying, are in fact, the ones who are often involved in it.