How boning a Kardashian became rap's ultimate status symbol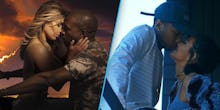 If you're a hip-hop recording artist looking for professional clout, there are a number of career achievements you might aspire to: a platinum album, a sold-out tour, winning a Grammy. But for an increasing number of men in the rap game, it seems that the ultimate form of bragging rights doesn't entail dollar bills or shiny awards. Instead, it means fucking a Kardashian sister.
In a recently released song called "Sauce," dick print-loving rapper The Game says that he "used to fuck bitches that Usher Raymond passed on" until he ostensibly moved up in life and "fucked three Kardashians."
TMZ's "Kardashian sources" claim The Game only slept with a single Kardashian sister (Kim, whom he reportedly dated a while back), but the veracity of the lyric doesn't really matter anyway. Accurate or not, it serves as a boast. The Game is no longer hooking up with rejected Usher groupies; he is on the elite level of one who fucks Kardashians.
All at once, the Kardashian women represent a combination of subjects frequently worshipped in mainstream rap lyrics: power, money, female beauty, fame, sex, luxury, big asses. Kanye West might be able to evoke one or two of these themes with a line about his Benz, but he can evoke all of them with a line about his wife.
Of course, this wasn't always the case. Kim's name first began popping up in rap verses after 2007, when she jumped out of a sex tape with ex-boyfriend Ray J and into our hearts. At the time, she was mostly just admired for being a fuckable woman with a big ass. A line from Royce da 5'9's 2009 track "Thing for Your Girlfriend" pretty much sums up the general feeling rappers had for Kim during the post-sex tape era of 2007-2012:
"I'm tryna hit Kim Kardashian now."
During this period, many rappers spat rhymes expressing their lust for Kim and her physical dimensions, including Nas ("Kim Kardashian, body with the waist slim"), Twista ("Ass fat, waist slim, Kim Kardashian fashion") and Meek Mill ("I be with a bitch that looks like Kim Kardashian").
Meanwhile, Kanye had been quietly harboring an infatuation with her since as early as 2006. Kim and Kanye officially started dating in 2012, which was surely a major victory for his notorious ego. Now he wasn't just another rapper talking about wanting to fuck "the most beautiful woman of all time" — he was the one who actually got to do it.
Within a year he was simulating motorcycle sex with her in the music video for "Bound 2," which is essentially just one big visual announcement of Kanye proudly telling the world, "Hi, I regularly have sex with Kim Kardashian."
In response to 2013's Kimye hype, Ray J resurfaced with an attempt to retroactively cash in on his own Kim Kardashian bragging rights. He released a song called "I Hit It First," in which he spends three and a half minutes determinedly reminding people that his sex tape exists.
Kanye clapped back by referring to Ray-J as "Brandy's little brother" and calling him "lame." And then he promptly returned to rapping about fucking his wife.
"I impregnated your mouth, girl/ That's when I knew you could be my spouse, girl," he rapped in a 2014 "Drunk in Love" remix. "We fuckin' all over the house, girl/ We just messed up a brand new couch, girl."
Just as rappers are infatuated with the Kardashians, the Kardashians are infatuated with rappers.
Kim's marriage to Kanye is emblematic of how the obsession is mutual: Just as rappers are infatuated with the Kardashians, the Kardashians (with the exception of Scott Disick-cursed Kourtney) are infatuated with rappers.
Khloé has always been partial to athletes, but the rumor mill has still connected her to dudes like rapper French Montana and R&B bad boy Trey Songz over the years. On a verse in G-Eazy's "Say," French gloated about having a "bitch" who is "on E! like Chelsea Lately."
And then there are the Jenner girls. This summer has been rife with speculation that Kendall is currently in the midst of a romantic entanglement with A$AP Rocky. Other tabloids have suggested that she's hooking up with Tyler the Creator, although sources say they are just "super close friends."
Meanwhile, Kylie's on-again off-again relationship with Tyga has been making headlines for over two years at this point. Tyga's track "Pleazer" — which was released when Kylie was 17 and Tyga was 25 — makes some pretty strong allusions to their sexual relationship.
"T nasty, 'bout to catch a felony for it," he says. "Vagina juice like orange juice in the mornin'." Later in the track, guest rapper Boosie Badazz chimes in to say, "Get it/ Just stuck that Kardashian pussy."
As a result of these relationships, Kylie is becoming a fixture in rap videos. She appeared in two Tyga videos last year and also starred in a PartyNextDoor clip this past June while she and Tyga were on a break. But rather than embodying the standard role of video vixen, Kylie is portrayed as something of an entrepreneur. She even promoted her lip kit empire in PartyNextDoor's "Come and See Me," which served as an inadvertent reminder that with the KarJenners, power, money and success always just come along with the package.
When you put all of these Kardashian attributes together — their sex appeal, power, beauty, money, asses, fame, iconic image and obsession with rappers themselves — it is no wonder that sleeping with one of them has become the coveted status symbol that it is today.
"You the number one trophy wife," Kanye raps to Kim in his verse on "I Won" by Future. "You could look at Kylie, Kendall, Kourtney and Khloé/ All your mama ever made was trophies, right?"
This whole phenomenon is obviously a reflection of hip-hop's longstanding misogyny problem, and Kanye's decision to refer to the Kardashian women as nothing more than sentient trophies seems particularly problematic. But it's also a telling choice of words. The Kardashian women are the ultimate trophies, which easily explains why The Game might feel compelled to boast about having fucked three of them. Even if he, ya know, didn't.