Rappers YG, G-Eazy and Macklemore Team Up for "Fuck Donald Trump, Part 2"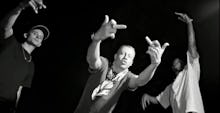 As Donald Trump continues to spew controversy, racism and hate at his rallies across the United States, rapper YG continues to make clear his strong disapproval of the Republican presidential nominee. Not only has the artist announced Tuesday that he's embarking on a nationwide FDT (Fuck Donald Trump) tour beginning mid Sept. in California, he's also paired with G-Eazy and Macklemore for a new video for "FDT (Fuck Donald Trump) Part 2."
The video follows part one of the fiery diss track aimed at the real estate tycoon, featuring Nipsey Hussle. The second brings in Macklemore and G-Eazy to come hard with the punchlines and truth bombs.
"Your politics are like a Starburst pack (why?)" Macklemore raps. "Nobody fucks with the orange one!"
"This man's not peaceful, racism's evil," G-Eazy raps. "This man hates Muslims, that's a billion fuckin' people!"
"FDT (Fuck Donald Trump) Part 2" features imagery of Muslim activists, children, blacks, immigrants and other minorities — all of whom the candidate has lambasted during his controversial speeches since announcing his run for the White House. 
Check out the video, as well as the the dates and stops for YG's Fuck Donald Trump tour, below, via Billboard.
Sept. 18 - San Diego, California