Britney Spears Will Perform at the 2016 MTV VMAs 2 Days After Her Album Drops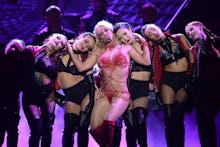 On Tuesday, MTV added queen Britney Spears to their performance lineup for the 2016 Video Music Awards, where she'll perform her new single "Make Me" alongside rapper G-Eazy. It'll be the first time the artist has performed on the VMAs stage in nearly 10 years. 
Spears shared the news with a highly stylized promo on her Facebook and Twitter.
"The VMAs don't just give you a stage — they give you a story," Spears says in the video. It depicts a snake slithering through over sparkling dresses and other accoutrements in trashed dressing room, a seeming nod to her iconic 2001 performance of "I'm a Slave 4 U" as well as her 2003 performance, in which she kissed Madonna while wearing a wedding dress.
However, the trailer is not without a hint of irony. As fans may remember, Spears' last VMA performance in 2007 was universally panned and nearly derailed her career. That performance was also partially billed as a Britney comeback, but the Britney Army seems to have far higher hopes this time around, judging by the scream GIFs rapidly flooding Twitter.
The show will take place on August 28, two days after her highly anticipated Glory album is slated to drop. So far its singles — "Make Me," "Private Show" and "Clumsy" — have been generally well-received. So far the only major misstep was the music video for "Make Me," which encouraged fans to start a petition to have it taken down and replaced with the rumored original video, which was supposedly shot by David LaChapelle. Otherwise, it's all been going off without a hitch.
This performance will determine whether or not we are truly in a glorious "new era" of Britney, as the star claimed to tease her new album. The queen and her fans have a little under two weeks to prepare.