Here's how design and tech are making shared workspaces more productive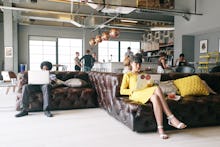 It can be a lonely road for the freelance worker. Lots of work is solitary by nature, but for freelancers who typically work from home or the local cafe, the isolation and lack of collegial interaction can be, well, unproductive.
"When you are your own boss ... you are responsible for everything that you do," Leo Newball, a freelance web developer, said in a phone interview. "I need a space where I can detach from waking up and just working in my bedroom. That wasn't working at all for me."
In December, Newball joined The Yard, a membership-based co-working collective with spaces around New York City and Philadelphia. With tall ceilings, large windows and exposed beams, the bright, airy interior at The Yard's Herald Square location is the perfect mix of structure and freedom Newball needs to get it done.
He's far from alone. In 2015, about 10.1% of all United States workers identified as self-employed. Along with start-up entrepreneurs and staffers whose companies don't have a local office, self-employed workers are increasingly seeking out shared workspaces like The Yard, Grind and WeWork.
When you have a mass of creative and entrepreneurial individuals hustling on their ambitions and passions, that energy can transform any space into a buzzing hub for networking and collaboration. But the beehive metaphor isn't much of a guide when it comes to how shared workspaces are designed and laid out. Far from an array of honeycomb-like cells for housing busy drones, shared workspaces use thoughtful design and technology to inspire productivity, flow and teamwork.
An optimally designed co-working space is one that prioritizes people's creativity, said Felicia Stingone, chief marketing officer for Grind, in a phone interview. "What's important for all co-working spaces is a design for functionality."
Transparency and connection: Throwing some desks, chairs and coffee machines haphazardly into a large room won't result in a workspace with necessities like easy accessibility, convenience and amenities — or something intangible, but no less essential, like vibe.
At WeWork, which has almost 60,000 on-site members, head of physical product Dave Fano and his team use 3-D modeling to build virtual co-working spaces before going straight to construction, bypassing the prototype phase. The team thinks about where to put conference rooms in relation to lounge areas or arranging small offices encircling one large office with the ultimate goal of connecting people and fostering a community of complementary skill sets.
The decision to use glass walls, Fano said in a phone interview, was meant to encourage "transparency [and] exposing people to the kinds of things [other] people are working on."
After all, the chance to connect with peers and cross-pollinate ideas is what draws a lot of people to shared spaces. "Why work in a co-working space if you're not looking for the occasional opportunity to connect?" Grind's Stingone said.
While glass works at WeWork, Morris Levy, co-founder and CEO of the Yard, finds that opaque walls allow members privacy and the chance to decorate their spaces as they please.
"The environment that we create is inspiring and life-filled," Levy said in a phone interview. That means art murals and gallery spaces over open floor plans.
Balance and no fluff: At the Farm, a rustic-sounding space located in NYC's SoHo neighborhood, the goal is to re-create the cozy, homey feel of a coffee shop. Sustainable and reclaimed products fill up the space, including repurposed barn wood and custom-built phone booths.
"Ambiance is really what matters at the end of the day," Farm co-founder Lucas Seyhun said in a phone interview.
A key aspect of that elusive ambience is balance. At Grind, Stingone said, "everybody works a little differently," so there's lots of natural light, a white noise system and an equal amount of private workspaces and open, more social spaces.
As with most things — design especially — less is invariably more. "You don't need the expensive chairs or the expensive lighting," Newball said. "You don't have to go crazy on the fluff," he added. 
Tech-powered accessibility: Apart from staples like Wi-Fi, printers and air conditioning, amenities and perks like free coffee, human resource services and gym memberships make co-working more appealing. But when it comes to integrating new technologies into a co-working space, it has to serve a purpose, not simply offer "bells and whistles," Stingone said.
That includes technology enabling members to access and use the space efficiently and conveniently — particularly for those who work unconventional hours and need 24/7 flexibility.
"The joke [at the workspace] is you never know when I'm going to show up," Newball said.
For some co-working spaces, members can use their phones as key cards to enter. Some spaces have internal social networks (Grind has one called Agora) to virtually connect members at a location.
In a sense, WeWork's Fano said, technology enables shared workspaces to be accessed like a service, the way Uber offers transportation and Airbnb offers short-term lodging, making "something quite static and inflexible [like a workspace] to be dynamic and flexible."
Jeremy Goldman, the CEO of digital branding and marketing consultancy Firebrand Group and a member of Grind, echoed that theme. Co-working, he wrote in an email, offers "the flexibility of an office that's less like the office of yesterday and more like the offices of tomorrow."