Here's a Really Easy Recipe for Making Sprinkles at Home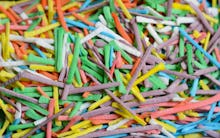 Just because you can make it doesn't mean you always should. For instance, certain food items like ketchup tend to taste better when bought from the store. Sprinkles are another item that get tossed into grocery carts rather than cared for in kitchens, and while they often appear in homemade desserts, they're rarely made at home. There are a number of good reasons for this to change. 
Reason number one: Homemade sprinkles have cleaner ingredients.
Let's start with the fact that store-bought sprinkles can rack up ingredients in the double digits, despite their simple appearance. Homemade sprinkles, not so much. And while commercial sprinkles call for undesirable ingredients like corn syrup, a homemade version is much cleaner. 
Plus, according to Sohla El-Waylly, the co-owner and dessert savant at Hail Mary in Brooklyn, New York, the colorful sugar sticks are incredibly simple to make. "All we do is pipe royal icing into lines and let it dry," she said in an interview.  
El-Waylly's version — which she uses to decorate the restaurant's popular Mile-High Confetti Cake — has just egg whites, powdered sugar, a pinch of salt, food coloring and sometimes flavoring. 
As for the recipe? It kind of changes every time. "Because you are working with sugar, temperature and humidity can really affect how much of each ingredient you need to use," El-Waylly said. She just mixes together egg whites, powdered sugar, salt and vanilla extract in a stand mixer until it achieves a consistency reminiscent of marshmallow fluff. Easy enough!
The batter goes into a bowl and El-Waylly adds in drops of food coloring, stirring as she goes, until she gets the color she is looking for. After that, the chef transfers the mixture into a pastry bag, of which she snips off the top, no piping tip required, before piping each large sprinkle onto parchment paper. After the sprinkles dry overnight, El-Waylly peels them from the paper and stores them in a tupperware. "They last forever when covered," she said. 
Reason number two: You can flavor homemade sprinkles with anything your heart desires.
"One of the biggest advantages of making your own sprinkles is that you can flavor them however you want," El-Waylly said. She often stirs rose syrup and vanilla extract into her sprinkle batter. Fancy, ey? The options are endless. "It could be fun to, say, make mint sprinkles for a grasshopper cake," the chef pondered. Fun indeed.
Reason number three: Your sprinkles, your choices.
Making sprinkles at home means you control exactly what goes into the festive little pieces. If you're all for natural foods, you can choose to use vegetable dyes instead of standard food coloring. But, as El-Waylly warned, the colors of the sprinkles change quickly as they sit around when using natural food dyes. At the restaurant, she uses chemical dyes to maintain consistency. But still, to each their own! 
There's one caveat to falling in love with homemade sprinkles.
Homemade sprinkles tend to dissolve when you use them in recipes. "Store bought sprinkles are coated with wax in a tumbler so that they don't dissipate when they are put into cakes and things," El-Waylly said. Even at her restaurant, she'll use the store-bought versions for recipes like confetti cake, reserving the beautiful homemade ones for decorating the outside of desserts. 
But as anyone who's every drooled over the sigh of a stunning treat, when it comes to desserts, what's on the outside really does matter. El-Waylly attributes the popularity of the restaurant's confetti cake to the large homemade sprinkles that dance atop the icing. The detail is simple, but it adds a dramatic, near-irresistible flair to the cake that mass-produced sprinkles simply can't compete with. Surely, you'll agree: