Zac Efron Finally Met Simone Biles, Who Let Him Kiss Her Cheek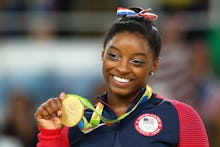 U.S. Olympic gymnast Simone Biles, who dominated yet another competition in Rio on Tuesday for her fourth and final gold medal of the 2016 Olympics in the floor exercise finals, is a big fan of actor Zac Efron — going so far as to host a life-size cardboard cutout of the star in her home.
Efron is also a fan of Biles.
On Tuesday, the queen of world gymnastics met Efron. Despite the actor possessing no gold medals in sporting events, Biles humbly allowed him to kiss her on the cheek for a snapchat, according to BuzzFeed.
Of course, the Internet predictably freaked out.