Donald Trump Shakes Up His Campaign Team Amid Plunging Poll Numbers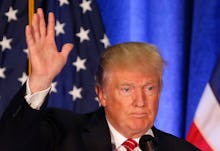 Plunging in the polls and facing mounting frustration within his party, Republican presidential nominee Donald Trump is overhauling his campaign for the second time in as many months.
The Wall Street Journal reported early Wednesday that, in an effective demotion for controversial campaign chairman Paul Manafort, Trump is bringing on Breitbart News executive Stephen Bannon to serve as chief executive and promoting veteran GOP pollster Kellyanne Conway from campaign adviser to campaign manager.
"I want to win," Trump told the Journal. "That's why I'm bringing on fantastic people who know how to win and love to win."
In a statement, Trump said he was adding "some of the best talents in politics" to his campaign's top echelon.
The move comes less than three months before voters head to the polls in Trump's contest with Democratic nominee Hillary Clinton — and less than two months after Trump ousted campaign manager Corey Lewandowski amid a similar period of campaign turbulence.
Trailing Clinton by an average of about seven percentage points in recent national surveys and lagging badly in crucial swing states, Trump finds himself in one of the roughest patches of his campaign to date, with some fellow Republicans urging party officials to abandon the incendiary nominee to focus on preserving GOP majorities in the House and Senate.
Though he captured the GOP nomination after consistently thumbing his nose at party elites, the campaign overhaul indicates that Trump is taking party officials' frustrations seriously.
Manafort's reduced influence follows a New York Times expose on the longtime lobbyist's representation of the now-ousted pro-Russian government of Ukraine, which may have paid Manafort up to $12.7 million in off-the-books payments, according to the investigation. The revelation compounded existing concerns about Trump's coziness with the regime of Russian President Vladimir Putin.
The story resurfaced longstanding tensions between the buttoned-up Manafort and Lewandowski, who clashed bitterly before the latter's June ouster. Lewandowski, a sharp-elbowed operative who preferred to "let Trump be Trump," tweeted the Times story after its publication. Early on Wednesday, he also tweeted news of the campaign shake-up, with no additional commentary.
Lewandowski is not being brought back onto the campaign as part of the overhaul.
While the reshuffle is designed to allay doubts about Trump's candidacy and help the nominee course-correct after a series of controversies — like his attacks on a Gold Star family and his suggestion that "Second Amendment people" could stop Clinton — it's unclear whether the overhaul will move the needle for Trump, particularly at this late stage in the campaign, with early voting starting in less than six weeks.
Those controversies, of course, were of Trump's own making, and he's not keen to change the shoot-from-the-hip style that's earned him the affection of many GOP voters — and the enmity of the many groups he's targeted.
"I don't want to pivot. I don't want to change," Trump said Tuesday, adding, "I am who I am."
And though the campaign, under Manafort's direction, has attempted to impose discipline on the 70-year-old nominee with a series of scripted, tightly focused speeches — like Trump's economic policy address last week and his speeches on foreign policy and "law-and-order" this week — these periods of relative discipline and focus have invariably given way to eyebrow-raising statements or scorched-earth attacks on his opponents.
Most worrying for the campaign, however, is Trump's lack of a serious ground game to compete with Clinton's voter-turnout machine. The candidate's staffers in key battlegrounds are largely political newcomers or marginal players.
"The Trump campaign is not a bad campaign," longtime Democratic operative James Carville recently told the New Yorker. "It's not a messed-up campaign. It's not a dysfunctional campaign. There is no campaign."