In One Photoshoot, This Fashion Blogger Just Proved How Ridiculous Sample Sizes Really Are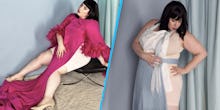 It's hard out there for a woman in Hollywood who isn't sample size, or a size zero or two. Think about Leslie Jones, who recently had to speak out on Twitter to get someone to make her a dress. Think about Melissa McCarthy, who resorted to designing her own dresses for red carpet events. Think about Rebel Wilson, who often has to wear clothes from her own clothing line. 
Because designers don't typically make dresses in their sizes, they're shit out of luck, and millions of women get the feeling that quality, designer dresses will never be for them.
Fashion blogger Liz Black, who runs the blog P.S. It's Fashion, thinks that's ridiculous. And in order to show just how ridiculous it is, Black gathered a number of designer gowns in sample sizes and posed with them to send a clear message to the fashion industry: These dresses are too damn small.
"I've worked in a lot of showrooms and have dealt with a lot of runway samples, and I have always marveled at the size difference between those teeny tiny samples and the size of my own body," Black said to People.  
Black's photo series is published on the website You Do You, which shows her either squeezing into sample size dresses, or just leaving them to drape over her like a shrunken blanket, to illustrate the difference between the type of body needed for these types of dresses, and her own. 
"The message is to the fashion industry as a whole," Black told People. "I definitely feel that the industry has improved in terms of its inclusiveness, but this is one aspect that designers seem to be really not budging on — they still are using homogenous-sized models on the runway." 
Indeed, the fashion industry has slowly become more inclusive, embracing models like Ashley Graham, but there's still obviously a ways to go in terms of celebrating an array of body types. What Black ultimately wants is a variety of body shapes on runways, fashion advertisements and campaigns, not just women who happen to fit into a sample size. 
"I hope to see the fashion industry become more inclusive," she told People. "It doesn't mean that we have to lose that body type, and I'm not body shaming people who are naturally thin, but very often these models are being instructed to keep their bodies smaller than they would be naturally to fit into these sample sizes." 
And as you can see by this series, not many women would be able to fit into these dresses either, especially since 67% of U.S. women wear a size 14 or larger. 
Fashion designers the world over, take note.