Taylor Swift Just Donated $1 Million to Louisiana Flood Relief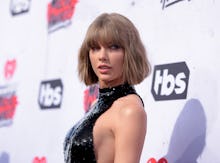 Pop star Taylor Swift is donating $1 million in response to disastrous flooding that has already killed 11 people and damaged 40,000 homes in Louisiana. The floods are being called some of the worst in the state's history.
"We began The 1989 World Tour in Louisiana, and the wonderful fans there made us feel completely at home," Swift said in a statement to the Associated Press. "The fact that so many people in Louisiana have been forced out of their own homes this week is heartbreaking."
So far, at least 11 people have died, more than 40,000 houses were damaged and over 60,000 people have registered for disaster aid from the Federal Emergency Management Agency. According to the Associated Press, 30,000 people have already been rescued from the area. Hopefully that number continues to rise.
Over last weekend, the southern part of Louisiana was hit with two feet of rain. It's the kind of disaster that, climate scientists said, should only come once every 500 years. However, this storm was the eighth of its kind. And that's all partly thanks to a warming planet.
As people continue doing classic human activities like driving cars, it creates more greenhouse gases, which trap heat in the atmosphere, not letting it escape out into space. When that happens, it makes the air warmer, which is the perfect condition for elevated levels of atmospheric moisture. So when a storm actually happens, that pumped-up moisture makes it more extreme, leading to heavy rainfall and flooding.
In other words, if we can't get our emissions under control, storms are going to keep coming. And states like Louisiana are going to need a hell of a lot more than Tay's $1 million.