Australia will close its controversial Manus Island detention center for asylum seekers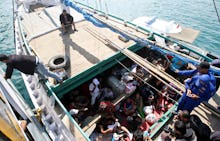 Just one week after a massive document leak exposed the Australian government as complicit in violence and abuse against asylum seekers held on Nauru Island, the government has announced the closure of its detention centers on Manus Island, Papua New Guinea.
Papuan Prime Minister Peter O'Neill met with Australian immigration minister Peter Dutton in PNG's capital, Port Moresby, Wednesday. Both parties subsequently released statements declaring the closure of the Manus Island detention facility, currently holding 854 asylum seekers.
"Both PNG and Australia are in agreement that [Manus Island] centre is to be closed," O'Neill said in a statement after the meeting, according to BBC.
All refugees and asylum seekers arriving in Australia by boat are sent instead to these offshore detention centers, where they are often held for long periods of time, unable to leave.
In April, the PNG Supreme Court ruled the Manus Island detention center violated the country's constitution. As per section 42, "No person shall be deprived of his personal liberty." There are existing caveats, however: Section 42 applies to all "except in defined circumstances relating to crime, illegal immigration and quarantine," BBC explains.
The PNG government attempted to revise this section, stating it should be expanded to apply to "a foreign national [held] under arrangements made by Papua New Guinea with another country," according to BBC. But the Supreme Court ruled the amendment unconstitutional.
Dutton said they would support PNG financially to aid the detention center's closure and resettlement of the asylum seekers being held there; he would not disclose a figure. Neither country announced a plan for where the detainees would be resettled — it certainly won't be Australia.
In the statement, Dutton highlighted Australia's controversial and unwelcoming resettlement policy.
"Our position, confirmed again today with PNG, is that no one from Manus Island regional processing centre will ever be settled in Australia," Dutton said.