Italian swimmer Rachele Bruni dedicates Olympic silver medal to her girlfriend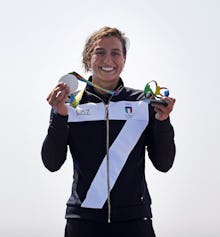 There's nothing more romantic than showing your gratitude to your partner, and Italian swimmer Rachele Bruni just schooled us all about how to do so without being cheesy.
After wining a silver medal at the 10km marathon at the Olympic games in Rio, Bruni dedicated the victory to her beloved girlfriend Diletta Faina, The Daily Dot reported. 
"I dedicate this victory to my family, my coach and my beloved, who have followed and supported me," Bruni told Italian newspaper La Stampa, naming Faina as her beloved.
 "I've never done a big coming out. Undoubtedly there are people who have too many prejudices, but I live peacefully...I live for myself, for my passion for swimming and for the people who love me."
Faina was quick to tweet that the longtime couple has never hidden their relationship or sexual orientation. Yet even though this wasn't Bruni's official "coming out," the swimmer's proud declaration of love inspired viewers around the world. 
Bruni wasn't the only lesbian to broadcast her love for her partner at the games in Rio. Brazilian women's rugby player Isadora Cerullo proposed to her girlfriend this year at the Olympics. 
Yet although there are 51 openly LGBTQ athletes competing in the 2016 Olympics, according to Gay Star News, Bruni is Italy's sole openly queer Olympian. So this public display of pride and affection was especially powerful for Italian fans. 
"The simplicity and ease with which you've broken through the barriers of ignorance, leaves me speechless, giving way only to emotion," Facebook user Roberta Savona commented in Italian on Bruni's Facebook page. "If only this country had more people with hearts as a big as yours, we would certainly be in a better place."