Amazon created a cooking show that lets you order the food to your door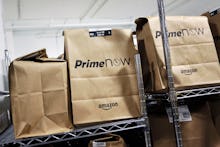 Picture it: You're in your pajamas, lying on the couch while streaming Beat Bobby Flay, mouth salivating as Flay sears a steak to perfection. Instead of settling for a mediocre burger from Seamless, you hit up Amazon Prime. Thirty minutes later, you're feasting on a Flay-approved skirt steak. 
Sound like a foodie fantasy? It's not. 
Viewers in Japan will soon be able to impulse-buy products and foods from a comedy show airing on Amazon Prime in the fall, Grub Street reported. 
Japanese sketch comedy duo Taka and Toshi will host the still-untitled comedy show, which will feature local celebrities and also highlight regional dishes from around Japan, Grub Street reported. As of now, there are four 40-minute episodes planned. 
Here's how it works: Amazon Prime members will stream the show, watch the comedians cook and crack jokes (and maybe eggs?), and then purchase foods and products with Amazon's 1-Click feature. 
The first shows will highlight food from the Northern island of Hokkaido, Nikkei Asian Review reported. According to the Japan National Tourism Organization, this region is known for seafood and barbecued mutton. Not exactly delivery friendly, but sounds scrumptious. 
Eating and streaming go together like PB&J (er, ramen and Sriracha) — and Amazon's robust streaming platform and its e-commerce domination mean it's perfectly positioned to test out an entertainment-commerce hybrid. 
Amazon has not announced whether it will take this show on the road. For now, American couch potatoes will have to make do with the regular old #DashButton for Amazon Pantry items.