An Olympian reportedly had a "marathon sex session" — and was promptly slut shamed for it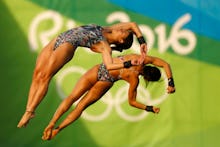 There has already been plenty of sexist media coverage during the 2016 Olympic Games in Rio, from websites obsessing over what female athletes wear to media outlets describing medalist trapshooter Corey Cogdell as the "wife of" a Chicago Bears lineman.
But so far, nothing shows the bias against female athletes quite like the tabloid-fueled rumors that Brazilian Olympic diving duo Ingrid de Oliveira and Giovanna Pedroso "split" over a guy. 
The New York Post reported that 20-year-old Oliveira "got wet and wild with a male canoeist named Pedro Goncalves" on the night before the divers' 10-meter synchronized event. According to Brazilian newspaper O Globo, Oliveira essentially sexiled Pedroso, kicking her out of the room while she had sex. Shortly afterward the divers decided to part ways.
"From today I do not know what will happen, but I know I will not jump synchronized with her," Oliveira succinctly told O Globo, according to Google Translate. 
Following the fracas, people have taken to slut-shaming the diver on Instagram. "Shame on you and what you did!" Instagram commenter roman_stadlau wrote on Oliveira's recent photo from Rio. 
Meanwhile, media outlets are portraying the split as a stereotypical cat fight between two women. The New York Post compared Oliveira's alleged fight with her diving partner to a spat between college roommates, claiming the adult diver "snuck" a boy into her dorm and left 17-year-old Perdroso feeling "bitter." 
This isn't Oliveira's first brush with such sexist scrutiny. Back in 2015, for instance, Oliveira was also condemned for posting "provocative" photos in her swimsuit. Yet the comments about the Rio incident on her Instagram are shocking nonetheless. 
"Pedro Goncalves already won," one Twitter user posted along with a picture of one of the "sex marathon" headlines. "Lucky guy I would have loved to slam that fat ass," Instagram commenter adamm51 wrote on Oliveira's diving photo. 
At first, Spanish-language sports outlet FutbolSapiens reported Oliveira was expelled from Brazil's Olympic delegation after her "sexual episode." Yet Brazilian outlets later reported that Oliveira was not officially disciplined by the committee, which only talked about expelling her. There does not appear to be any mention, however, of disciplinary action for Pedro Goncalves. 
According to an email statement from the Brazilian Olympic Committee, Oliveira was not expelled from the games. "COB [does] not comment on any internal cases of the Brazilian Mission in Rio 2016. The internal problems of the Brazilian Mission are resolved within the mission," the statement said, adding that "COB has not excluded the athlete. She continued competing."
But even if the committee deliberated over potentially taking punitive action against Oliveira, it's unclear what she did wrong, exactly. While there are regulations against outdoor sex at the Olympics, for instance, Oliveira didn't appear to violate any rules. On the contrary, the Olympic Games have a history of highly publicized sex. This year, officials even distributed thousands of condoms to athletes in the Olympic Village.
So why, then, would Oliveira's supposed "marathon sex session" attract such scrutiny, while Goncalves' behavior is ignored? 
The double standard has clearly rubbed some people the wrong way. "Two people have sex, but only Ingrid Oliveira is expelled," journalist Mónica Morales tweeted in Spanish. "Pedro Goncalves continues in #Rio2016 and it's all the woman's fault, I guess. #machismo"
It's important to note that many Brazilian social media users appear to support Oliveira, leaving supportive comments on her Instagram and slamming international media coverage. Yet the global preoccupation with her sexuality shows how misogyny still plagues female athletes. 
Oliveira's sex life hasn't been the only source of gossip-mongering at the Olympic Village. 
On Thursday, Daily Beast editor Nico Hines published a similarly gossipy piece about athletes using apps like Grindr to hook up at the Olympic Village. The article exposed queer athletes from conservative countries to potentially dangerous backlash, leading some to speculate whether the widespread obsession with Olympians' sex lives verged on dehumanization. 
Thankfully, the public quickly recognized the danger in the Daily Beast's exploitative coverage, calling out Hines and the publication for putting Olympians at risk. Yet as numerous trend pieces about Tinder in the Olympic village clearly indicate, we're still unnaturally obsessed with the sex lives of Olympians. As Irish Times columnist Una Mullally wrote, "In fawning over Olympians' bodies ... we dehumanize them. Mix this with a voyeuristic interest in athletes' sex lives, and things can go very wrong."
Media outlets have largely failed to condemn Oliveira's public humiliation. Instead, media outlets are gleefully reveling in rumors of a feud between two women, sparked by a sexual "marathon."
The Olympics won't be an even playing field for women until audiences retire their obsession with delivering moral judgments about female athletes. Whatever Oliveira did, or didn't do, in the privacy of her bedroom is none of our damn business.