RealDoll Might Release a Smart Sex Doll in 2017 — And It Might "Love" You Back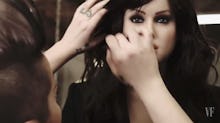 Sex dolls are becoming much more than silicone orifices. Soon, they're going to talk and learn and maybe even walk around. 
In a Reddit AMA on Tuesday, RealDoll CEO Matt McMullen revealed some of the company's future plans for its sex dolls — and the future of intimacy involves a lot of plastic, metal and your smartphone. In response to someone asking McMullen who he sees as the company's direct competition, he said the "human female." This might explain why RealDoll is trying to bring its products to "life." 
According to McMullen, the company is "putting the finishing touches" on its artificial intelligence app, with plans to release it within six months. It's also working on a RealDoll with a robotic head to be released by the end of 2017, the company's 20th anniversary.
The company is building an AI system that will be compatible with a robotic doll or able to be experienced within a virtual reality environment, McMullen said in the AMA. 
"We are designing the AI to be fun and engaging, more than focusing on whether it can fool you into thinking it's a person," he said.
Aside from the ability to learn and communicate like Siri, Alexa, Cortana and other AI software, RealDoll sex dolls will also integrate virtual reality and teledildonics into its product experience, which points to a RealDoll experience that only necessitates a sex toy and a headset rather than a life-size doll. This could be good news for those looking for a less wieldy option to get off (as it stands, a RealDoll weighs between 60 and 90 pounds).
As for sentience, someone asked McMullen on Reddit if AI-equipped RealDolls will ever be able to love us back.
"I hope that we can at least simulate that," McMullen responded. "That's the goal."