Justin Gatlin's net worth, doping history and 3 other facts to know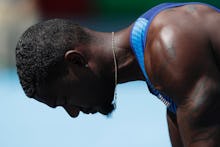 Justin Gatlin, the 34-year-old Olympic sprinter from Brooklyn, New York, took home silver in the men's 100-meter dash after coming in second place to the indefatigable Usain Bolt. Now, Gatlin wants to go after the 200-meter crown, potentially competing with Bolt again after Wednesday night's semifinals. The final race takes place at 9:30 p.m. Thursday.
Here's what to know about Gatlin before he goes head to head with the fastest man alive.
Gatlin had a lot of money, but people can't decide how much.
According to the website Celebrity Net Worth, Gatlin's net worth is $3 million. According to Money Nation, it's $6.2 million — although the site says he'd be worth $32 million if it weren't for years of doping bans (but more on that later).
Gatlin is the only person to win gold, silver and bronze in the 100-meter dash.
After being defeated by Bolt for the gold in the 2016 Olympics' 100-meter dash, he became the first competitor to win gold, silver and bronze in that event. He got his gold at the 2004 Summer Olympics in Athens, his silver this year (running a 9.89-second time) and his bronze at the 2012 Summer Olympics in London.
His career was marred by doping accusations.
In 2001, Gatlin was hit with a two-year ban for testing positive for an amphetamine, a banned substance. The ban was later reduced to a year, since, Gatlin said, the amphetamine in his system was contained in the medication for attention deficit disorder he'd been taking since childhood. In 2006, he was accused of using testosterone, and this time the ban stuck for four years. 
He once won 2 million yen on a Japanese game show for "beating" Bolt's world-record 100-meter dash.
In 2009, Gatlin won 2 million yen (a little less than $20,000) on a Japanese game show called Kasupe! after running a "wind-aided" 9.45-second 100-meter dash, beating Bolt's world record of 9.58 seconds. Which would've been awesome, if the episode was both an actual Olympic trial and Gatlin didn't have a giant fan at his back (that was the aid). Still, $20,000 for showing up on a Japanese TV show isn't bad.
Gatlin tried out for the NFL during his ban.
In 2007, after he'd begun serving his Olympic ban, Gatlin went to a few professional football scouting combines. He tried out for the Houston Texans and the Tampa Bay Buccaneers. He then ran a 40-yard dash — a common speed marker in football since players don't tend to run much farther than that at a time — in 4.25 seconds, .01 seconds behind the record. And he ran it on grass in a pair of sneakers. In other words, holy cow, this man can move.