Lady Gaga is coming back for real, announces new single "Perfect Illusion"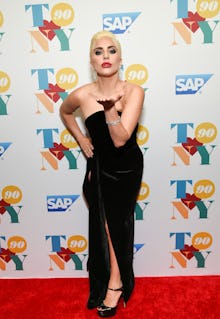 Lady Gaga announced her return to the music scene on Wednesday morning with a new single titled "Perfect Illusion." It'll be Gaga's first since her September 2015 anthem to sexual assault victims Oscars-stealing "Til It Happens to You." "Perfect Illusion" is set for release in September, according to an Instagram mosaic the singer shared with her fans Wednesday. The graphic also appears in scrolling tickers on her website. 
Reports have been surfacing throughout the summer that Lady Gaga has been planning her musical comeback. RedOne, one of the star's longtime collaborators, said he helped produce "eight great songs so far," though he couldn't be sure whether any of those would make it onto Gaga's next album, People reported. 
Idolator also reported Gaga has been in the studio with Ronson, as well as BloodPop and Tame Impala's frontman Kevin Parker — a fact confirmed by a May Instagram from Mark Ronson, showing Tame Impala and Bloodpop leaning in over a keyboard. The caption? "Illusion."
"I've heard two or three songs from her new record, which she's making with Mark Ronson, and it's absolutely brilliant," Elton John, frequent Lady Gaga collaborator said on a Beats 1 podcast in June. "So you're gonna be really happy when you hear that later in the year or early next year."
We may have another Gaga jazz album on the way, as well. Tony Bennett announced a follow-up to their collaborative 2014 album Cheek to Cheek, which the pair is set to start working on at the top of 2017. 
Stay tuned.
Aug. 17, 2016, 11:53 a.m.: This story has been updated.