There's a rumored new iPhone color, and it's gorgeous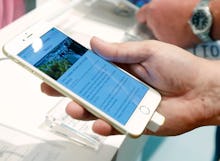 The iPhone 7's release date is about a month away, which means rumors and speculation have gone into overdrive. According to reports, the iPhone 7 features a sleek new color option.
Concept photos featuring the supposed new color surfaced from Twitter user the Malignant, who frequently shares images of smartphone leaks, as according to BGR. 
Though a specific name for the color has yet to be confirmed, the renderings showcase the iPhone 7 in a shade of metallic blue. Upon closer inspection, you can see the rumored dual-cameras on the back of the device, which is allegedly an "iPhone 7 Pro," according to the Malignant's hashtags in the caption.
A fresh hue might be the most trivial change to Apple's new model, but recall the incredible hype surrounding the iPhone 6's introduction of Rose Gold last year. That minor tweak rode a wave a publicity the New Yorker deemed worthy of cultural analysis. Not to mention social media's reaction:
With Samsung's Galaxy Note 7 wowing the critics, the iPhone 7 is increasingly looking like a product to pass on. But with a gorgeous new coat of blue, maybe — just maybe — consumers will stick around another year.