This Ryan Lochte armed robbery thing is getting pretty weird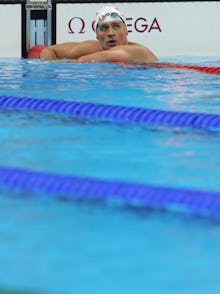 Three days after U.S. Olympic swimmer Ryan Lochte said he and three teammates were robbed at gunpoint while out in Rio de Janeiro, a Brazilian judge ordered authorities to seize the passports of Lochte and James Feigen  — but Lochte was already back in the United States.
According to the Associated Press, Lochte's father said Lochte touched down on U.S. soil on Wednesday, just ahead of the judge's order. Feigen's location was not immediately clear.
The order to seize the men's documents came after questions were raised during the initial investigations into the alleged robbery, according to a warrant obtained by NBC.
Lochte told NBC's Billy Bush they and two other swimmers were pulled over after a late night of partying by armed thieves impersonating police officers. 
"We got pulled over in our taxi, and these guys came out with a badge, a police badge, no lights, no nothing, just a police badge, they pulled us over," Lochte said. "They pulled out their guns, they told the other swimmers to get down on the ground — they got down on the ground. I refused, I was like, 'We didn't do anything wrong, so — I'm not getting down on the ground.'"
"The guy pulled out his gun, he cocked it, put it to my forehead," Lochte continued. "I put my hands up, I was like, 'Whatever.' He took our money. He took my wallet."
But Brazilian authorities, including Judge Keyla Blanc De Cnop, who issued the warrant for the seizure of passports, said that Lochte and Feigen's stories didn't match up. 
According to the warrant, Lochte said during his deposition that one armed robber held the group up; Feigen claimed that it was several men attempting to pull off the heist, only one of whom was armed.
Furthermore, De Cnop noted, security footage obtained from the Olympic village on the night of the incident appeared to show the two men arriving home in good spirits.
"I noticed the alleged victims arrived with their physical and mental integrities unshaken, in fact, they were joking with one another," she said.
Jeff Ostrow, Lochte's lawyer, maintains that his client is being used as a "pawn" in order to dispel the "dark cloud around these Olympics," according to NBC.
"That's BS. Ryan has always maintained there were number of them. I don't know if three or four, but a number of them. If one guy walked up to him, he probably would've kicked his ass," Ostrow said.