How much does it really cost to get dressed when you're a professional drag queen?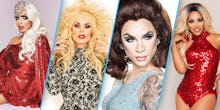 Whether they're stepping onstage at a club, on a red carpet for an awards show or even taking their own picture for Instagram, professional drag queens are expected to look a certain way. They're expected to sparkle.
Their dresses or jumpsuits are to be tight. Their waists snatched. Their hair sky-high. Their faces contoured for the gods, and their eyebrows arched and filled-in. After all, for many it's not just a full-time job; it's a display of femininity dialed up to 11. 
Gone are the days when drag was relegated to the stages of dark nightclubs. Now, thanks to RuPaul's Drag Race and Instagram, drag has truly become a lifestyle now observed by millions, and just as any good lifestyle blogger will tell you, there's great money to be made. But in order to make good money, in the case of drag queens, that often means shelling it out.
"Drag is expensive," Miss Fame, a internationally known drag queen who's amassed a following of 535,000 on Instagram, said in an interview. "It is more than an expensive hobby. It is a lifestyle. You choose what you want to spend thousands on, and then you spend thousands on it." 
Although some people may think getting dressed as a drag queen today means borrowing a girlfriend's dress and racing to Payless for a pair of shoes, drag can be much, much more than that. 
To break down just how expensive it is to be a professional drag queen in 2016, and to inform anyone who may be interested in becoming a drag queen, Mic spoke to Katya Zamolodchikova, Alyssa Edwards, Miss Fame and Shangela, all of whom make their livings as queens, have appeared on the reality show RuPaul's Drag Race and have amassed massive followings online.
All queens are not created equal. 
It's important to point out no one queen is just like the other. Sure, they all dress differently, but they also act differently, speak differently, present themselves differently. Their characters are all drastically distinct from one another, with queens like Katya Zamolodchikova trying to look like an icy, rich Russian woman and other queens like Alyssa Edwards trying to look more like Joan Collins. 
Therefore, the character, a lot of the time, defines a queen's look and preferred budget. 
"My character allows for me to resist the pressure," Zamolodchikova said. "There's some ridiculous standard for drag queens, but if we go to some shitty awards show, and I have to make this outfit from scratch, the whole thing will probably cost me $120." 
And that's just the clothes. 
"I think that drag can be as expensive as you want your character to be," Edwards said. "I think there's an opposite end of the spectrum, where they can be very economical. For me, I want to be Joan Collins. And Joan Collins is glamorous. She looks very expensive and it was like, 'How can I do this realistically and make this idea come to life?'" 
Now, let's run through what it really costs to dress up when you're a drag queen. Hint: It ain't cheap. 
How much do all those wigs really cost? 
You can put on the heels and the makeup, but it's the wig that can really cement a drag queen's look and persona, sitting like a teased and hair-sprayed crown. Thus, how much they spend depends completely on their own personal brand of drag. 
For Alyssa Edwards, who will appear on the upcoming series RuPaul's Drag Race: All Stars alongside Zamolodchikova, a wig is healing. A wig can make or break her character, and her soul. 
"I own well over 100 wigs, but I'm addicted to hair," Edwards said. "It's nothing for me to have a bad day and then to order a wig. That's like therapy for me. When all else fails, I'm like, 'Girl get a wig. Just get a new wig.'" 
And those wigs don't come cheap. 
"$450 for a wig — a custom wig that's fitted to your head, and for your face," Edwards said. "Back in the day, I was getting a shake-and-go from the wig shop and I would spin out. Those were probably worth $60. She graduated. That's called that TV money." 
So, if we're doing our math correctly, it's possible Edwards has spent possibly more than $45,000 alone on wigs. 
For Zamolodchikova, who's been doing drag since 2005, the wig also really does matter, but she's still thrifty about it. 
"You can't get a great wig for less than $35. If it's a lace-front, and it's a shitty one, then you're looking at $40 or $50," Zamolodchikova said. "Unfortunately, wigs don't come with big, showgirl-style hair, so you have to get two of them, so it's like $70." 
Much like Edwards, Zamolodchikova said she went just a little overboard, and at any one time she has between 50 to 100 wigs in her apartment. 
"I went overboard when I started making money," she said. "I started getting wigs from Vanity wigs, which cost $250 a piece. It's abusive to myself and to my bank account. I feel great though. It's not a very practical saving strategy if you do tend to binge shop, but then when do you feel ashamed about it." 
How much does all the makeup really cost? 
This is where the queens either get economical or go all out. For Miss Fame, whose character looks like a mix between Rita Hayworth and Marilyn Monroe, the face is everything. 
"Every time I travel, I travel with suitcases of makeup," Miss Fame, a trained makeup artist who recently appeared as an ambassador for L'Oréal Paris at the Cannes Film Festival, said. "I end up traveling with all of this makeup because of the makeup classes I teach, and then for me. I travel because of my makeup classes, so I have to have both."
"Between the eyeshadow palettes, the lips, foundation, lashes, blush, translucent powder and highlight, I'd say I'm putting on a $1,000 face," Fame said. "A $1,000 face seems right for an event of appearance. The cheapest thing that's going on my face is Elmer's glue that's blocking my brows."
But for Zamolodchikova, makeup is all about compromise. You splurge a little, save a lot — and maybe steal a bit too.
"For me, it depends on what your skin's like, but I like to spend $44 on f*cking foundation so I can spend $1.99 on mascara," Zamolodchikova said. "Everything besides the mascara is expensive, so it's worth the amount of money. Some stuff is from back in the day when I stole stuff."
(Not that she or Mic endorses that kind of behavior.)
How much do all those dresses really cost? 
For queens like Miss Fame, it's worth it to splurge on the outfit because that's an essential part of their characters, with her often wearing custom gowns created by a designer to fit her body's exact measurements, and those dresses cost roughly what you would pay for a used car. 
"A personal gown would be $1,000 to $3,000," Miss Fame, who's been doing drag professionally for five years, said. "Drag queens have to be like brides every time they want to be creative." 
For Zamolodchikova and Shangela, though, their careers have been about being thrifty. 
"The thing is, because drag is about not following rules, you don't have to follow rules," Zamolodchikova said. "It's not like anyone's gonna be like, 'Darling, where's your ring?' or 'Where's your bracelet?' Style doesn't cost any money, but it takes some ingenuity." 
Shangela thinks similarly: that the more experienced you get, the smarter you get with money too. 
"The longer you do drag, the smarter you get when spending your money," Shangela, who's been doing drag for six years, said. "I don't like to spend a lot of money, but I do like to have nice costumes. I like to be glamorous and modern, but still classy and fabulous, like Diana Ross. I love a gown. I love a full train on a gown. Because I know what I'm doing, my custom gowns are between $300 and $500."
How much do all those sparkly stilettos really cost? 
Save for Miss Fame and her attention and dedication to truly expensive glamour, shoes are where queens have the ability to be super thrifty. 
"It's not necessary to have red bottoms," Edwards, who's been doing drag for 15 years, said, referring to the red bottoms on Christian Louboutin shoes. "I'm not a fashion queen. If I'm somewhere and I see a flashy pump, or there's something at Walmart that's a flashy, strappy thing, I am not afraid to rock it."  
"I'm thankful," Shangela said. "I can make a pair of DSW shoes look like they came from Christian Louboutin. I'm not going to pay $2,000 on Louboutin boots when I'm going to be dancing and death dropping at clubs across the country. I'm gonna make it work." 
Given that drag can cost so much, do you really think someone without money can make it?
"I'm the living proof of that," Edwards said. "You've got to start somewhere. Baby steps. No one's learning how to swim dives into 12 feet. You're in the kiddie pool, then you've got your floaty things on. It takes time. It's not how much money you spend, it's how smart you spend it." 
That's something Shangela agrees with too, noting the essence of drag is about being resourceful, making something fabulous from close to nothing. 
"Drag is about being resourceful even when you don't have a lot," Shangela said. "For someone who doesn't have a lot of money, I would suggest they either learn how to sew, or find a person who does who likes them. Figure out what you need. If you don't know what's going on, girl, you got to figure it out. Know your craft and know the behind-the-scenes."
Although drag can be inordinately expensive, it doesn't necessarily have to be. The queen makes the drag, after all. Not the other way around.